Two years ago, I loaded my car with 2 suitcases full of clothes, a box of mismatched china, 10 potted plants, two cats, and a heart full of hope and ambition to set off for my new home in the city.
When I arrived at the vacant apartment, the first thing I did after unpacking was to put up the landscape painting my sister had given me as a going-away gift to make the apartment feel more like my home.
With each new artwork that I put on the empty walls, the strange apartment turned into a familiar and comforting abode. Whether it's an affordable canvas print or an expensive limited-edition piece, art has the ability to transform unfamiliar walls into homes that evoke emotions, provide comfort, and resonate with our inner self.
Finding the right wall art for your home can be an overwhelming process. To help you out, we have created a complete guide to choosing artwork for your home!
Let's get started.
Determine Your Style
Home décor is an expression of ourselves; we create a space that we can call home through furniture choices, placement, wall art selection, and colour combinations. The feeling of home is synonymous with physical and emotional safety, comfort, ease, recreation, belonging, and identification.
If you cannot emotionally connect with the décor in your house, you are not going to feel at home. In addition, the way we decorate our home influences our personality and emotional state – colours impact our mood and energy. Textures and lighting can reduce stress, and layout and artwork can inspire, comfort, and motivate us.
Above all, if the style of your home is in congruence with your aesthetics, it can invoke the feelings of belonging that make a house our home.
Therefore, don't even think about copying someone else's style! Whether Boho, Chic, Modern, Minimalist, Tribal, Whimsical, or something else, figure out your style preference to decorate your home. Once you have identified your style of décor, it will make it easier to choose wall décor.
When you go shopping for wall art, consider the following:
Comfort vs. energy – do you want your home to be a place where you can kick back and relax, or do you want it to be a space that energizes you for your next big venture? Choosing wall art in warm tones and textures will invoke feelings of comfort, while cold colours, contrasts, and sleek cuts will stimulate productivity.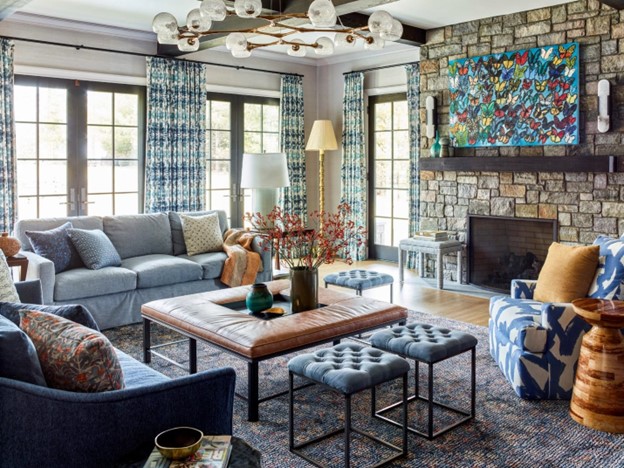 A vibrant and comfortable living space that combines modern design with a homely feel by Katicurtisdesign
Colour Vs. Monochrome – If your style is modern or minimalist, consider black and white wall art that compliments this aesthetic. On the other hand, if you prefer tribal or boho-chic styling, then eccentric wall pieces in bright colours, shapes, and textures will be more suitable. In contrast, if your home has a coastal vibe, you may choose wall art in soft pastels, shades of white, and even jewel tones to accentuate the beige and cream décor.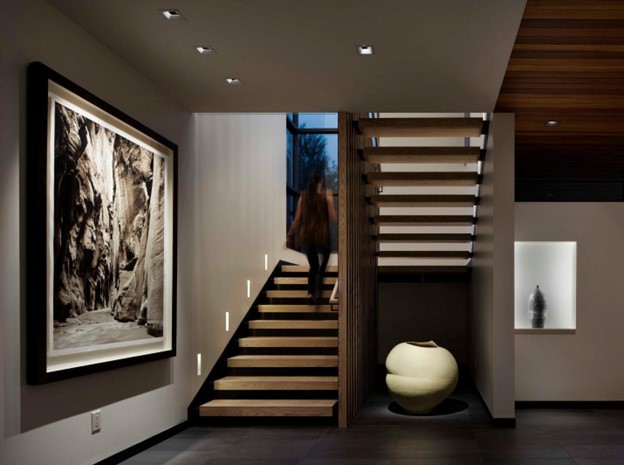 A minimalist look in black and white that showcases the stunning wall décor by 186 Lighting Design Group
Material – Metal and glass is associated with contemporary design. In contrast, wood and fabric are more suited to country, ranch, farmhouse, or coastal designs. If you live in a spacious farmhouse, a carbon fiber frame might look out of place. If you really like a piece of art, but it doesn't go with your style, consider changing the frame!
Which Room is the Wall Art for?
While you may have an overarching style for your home, wall art can help you strengthen the individuality and purpose of each room. When shopping for wall art, it's essential to consider the room you are buying art for; consider the following:
Bedrooms are the most intimate part of our home. More so than the rest of the house, bedrooms are a sanctuary. Most people have a strong emotional connection with their bedroom, too, and it's best to choose wall art that speaks to your heart and makes you feel at home!
You can choose wall art with a special meaning for you. For example, frame a painting gifted by your spouse, hang an artwork you back from your favorite holiday, or a tapestry handed down from generations.  You can even commission a local artist to paint a one-of-a-kind mural on your wall.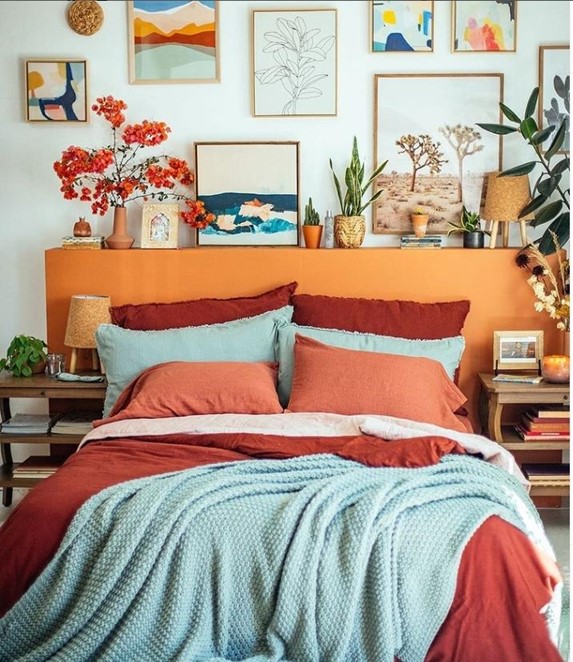 Source: justinablakeney
Unless you have a multipurpose bedroom (more on this later), you mostly use your bedroom to unwind and sleep.  Therefore, choose wall art that emphasizes calmness and serenity. Landscapes, abstract paintings, nostalgic artwork, heirloom pieces, and textured décor can help you create a nurturing and calm ambiance.
Secondly, consider the colour and style of your furniture, rugs, curtains, bedcovers, and pillows when choosing the wall art. Ensure that the art you choose goes well with the rest of your room to create harmony and tranquility.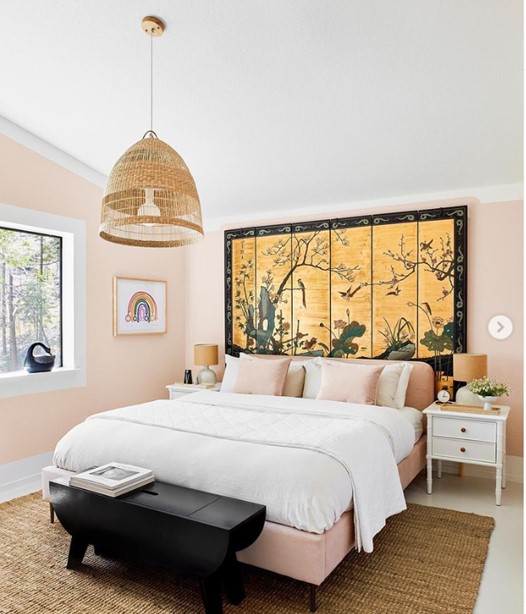 Source: mrorlandosoria
Finally, if you have a dual-purpose or multipurpose bedroom, i.e., your bedroom is also your workspace, vanity, or crafts room, you need to choose the wall art accordingly. You can divide the parts of your room by choosing calming wall art for your sleeping area and accentuating your work area with brightly coloured paintings.
You can choose a larger landscape canvas for your sleeping area and choose mini and medium-sized wall frames for your study or work corner.
Gone are the days when washrooms were small utilitarian spaces with no personality. Whether you are soaking in the tub after a hard day at work or enjoying a shower early in the morning, the bathroom is the place to set the tone.
You can choose wall art pieces that are too small or too quirky for the rest of the house in your bathroom. You can also experiment with designs and layouts. Not sure how a hexagonal abstract painting will look in the hallway? Unsure about an unconventional oil painting you picked up on a whim from a thrift store? Try it in the bathroom!
We will also encourage you to choose eccentric art pieces for your bathroom. For Example: A 3D flower painting, a wall entirely decorated in colourful glass plates, unconventionally shaped mirrors, and wall frames with slapstick quotes.
The kitchen is the thumping heart of the house! Whether you are meal prepping for the coming week, cooking Sunday dinners for your family, or preparing to host a dinner party, the vibe of your kitchen plays an essential role.
First things first, choose kitchen wall art that doesn't hamper the utility of the kitchen. Avoid big glass mirrors, paintings, and frames with intricate carvings that will just grease up in a few days. Choose artwork that is easy to clean!
Secondly, choose artwork that compliments your style of cooking. Are you a fan of Mediterranean cuisine? Wall frames of olives and lemons will set the tone. Do you want to highlight your South Asian heritage? Tiles in warm colours and paintings of spices and herbs will do the trick.
Shared Spaces – Dining Room, Drawing Room, Living Room
The shared spaces in your home are the most visible – this is the space where you show your guests your creativity, aesthetics, political stance, values, and style.  Here is when you spend the big bucks – buy that 3D sculpture wall art, the oversized painting you saw at an art exhibit, or the thought-evoking art piece by a local artist.
Source: younghuh
Design your room according to the art piece rather than the other way around so that the beautiful (and, let's admit it, expensive) art piece is front and center. You can place it on the wall above your main sofa, and it can hang behind the dining table or on the opposite side of your television or window.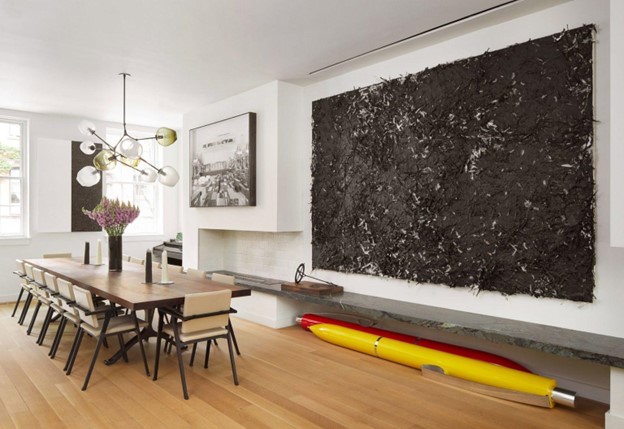 Source: Katicurtisdesign.com
Interior home designers suggest using bold colours, vivid graphics, and dramatic art pieces in shared spaces to embolden the place.
Which Type of Wall Art?
What comes into your mind when you think of wall art? Many of us only consider framed paintings. However, wall art can be an artistic embellishment in any format and medium.
You can choose the format and medium to suit your home's architecture, your personal style, and the room's aesthetics. Here are a few popular art mediums for you to consider:
Frames are the most common wall art. From high-end framed paintings by artists to inexpensive store-brought framed art prints, frames come in many shapes and sizes.
There is no denying that frames are one of the most diverse wall arts; you can use one large framed painting to set the mood of the room, or you can create a photo wall by assembling a collage of small-sized photo frames.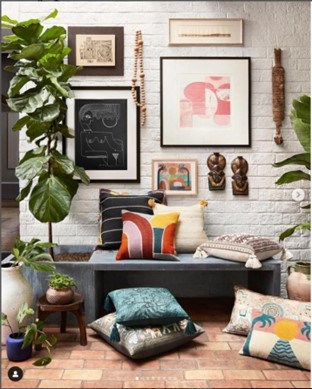 Source: justinablakeney
Moreover, you can also use frames in different materials like wood, metal, glass, and ceramic to further accentuate the style of a room. Similarly, you can also use frame colours, such as gold, silver, black, white, and everything in-between, to give your room a modern, chic, funky, or bold look.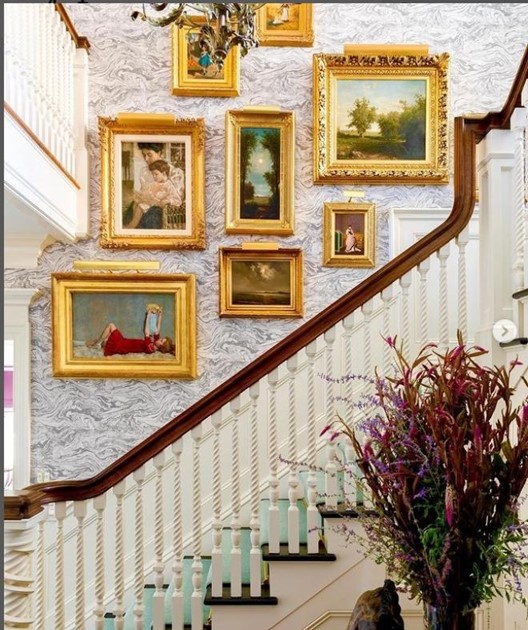 Source: coreydamenjenkins
The next most popular wall art medium is the humble and versatile canvas. Whether hand-stretched to fit a frame or hanging from a thread for a boho-chic look, canvases are the perfect fixture to embellish walls.
Lately, customization has taken over interior design. People want to decorate their rooms with their own pictures, quotes, and images from their favorite movies and TV shows. Many online businesses are offering to print these customized images in small format and large format canvases.
A high-end canvas printing service will allow you to choose the canvas's style, depth, size, and style. This gives you many options to customize the canvas according to your preference. The best part? You can buy canvas photos at affordable prices compared to other wall art forms, and yet they look just as good! You can even choose split canvas prints or print your photos on panoramic canvases.
Paint, Wallpaper, and Wall Murals
Paint and wallpaper don't sound very exciting, but they can instantly transform your room if used correctly. Using wall paint in patterns and combining it with artistic contrasts of the wallpaper can uplift your room instantly.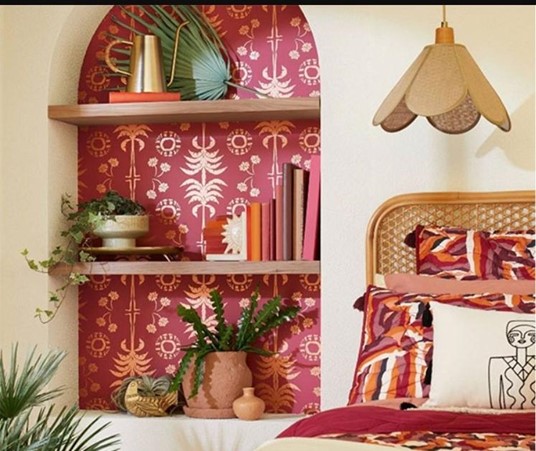 Source: justinablakeney
Similarly, you can have a local artist paint a mural on your wall or a portion of your wall to make it the centerpiece of your room.
Metal and glass have been used to decorate houses for centuries. Decorative brass wall-mounted art pieces and sculptures are all the rage these days. You can also use glass and light art pieces, mirrors, and fused glass sculptures. Not only do they look beautiful and uplift the room, but they are also conversation starters!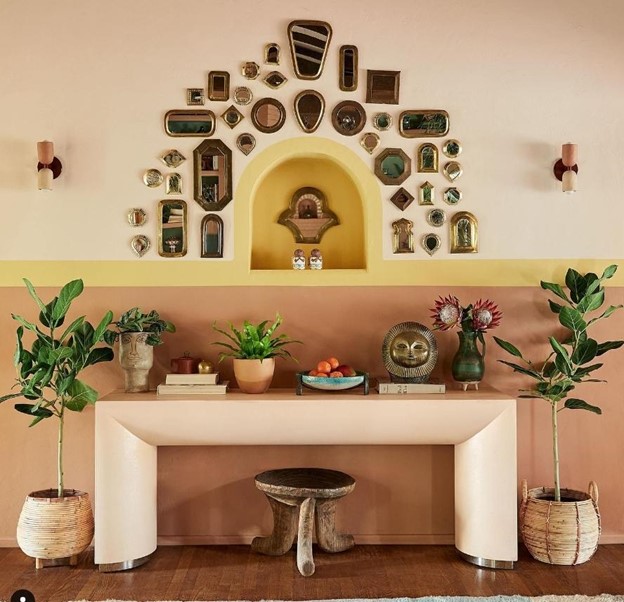 Source: Justinablakeney
Are you into Feng Shui? Does your house have a lot of plants? Is your house a farmhouse or an open-floor villa? Wood embellishments will be the perfect fit for you. Wood brings out traditional and rustic décor to create a warm, inviting, and open ambiance.
You can use wooden frames, sculptures, wall-mounted art, plaques, 3D art, statement pieces, shelving, and lighting to decorate your space. You can also use wall art made from sustainable wood variants such as reeds, wicker, bamboo, and dried leaves.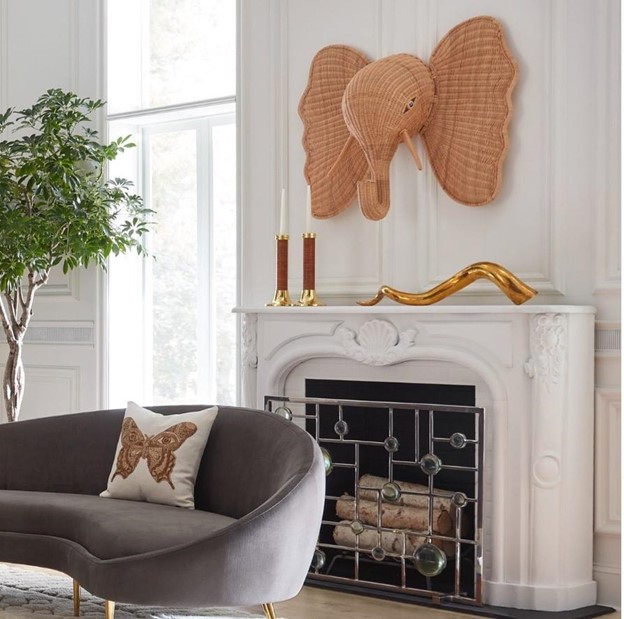 Source: jonathanadler
Where Can You Find Wall Art?
Now that you know what to buy, where can you buy it from?
Finding wall art isn't as challenging as it sounds if you know where to look, and that depends on your budget, location, available time, and access to the internet. Here are the 4 places where you are sure to find the art you are looking for!
Galleries & Art Exhibitions
If you are planning to splurge and are committed to finding a unique art piece to elevate the ambiance of your home, visit your local art galleries and exhibitions. Here, you will be able to purchase wall art from local artists.
Not only will you get a one-of-a-kind artwork for your wall, but you will also support the artists in your area! Bear in mind that these exclusive pieces are expensive, ranging from a few hundred dollars to thousands of dollars!
If you want to uplift your home but don't have the time to visit galleries in person, we suggest searching online. Several online art curators sell original art by artists all over the world!
You can choose from a variety of wall art in your budget range from the comfort of your home. Most websites offer assembly services (if needed) alongside shipment and delivery. Some resources to consider are Society6, Artland, and Etsy.
Apart from web curators, many businesses allow you to print your customized images on canvas,, such as The Canvas Prints. You can use the services of such businesses to print single canvases, canvas splits, photo collages, and large canvas wall displays.
Similarly, you can choose customized photo frames, tapestries, and wall hangings! Customized canvas wall art is an affordable option that is also unique!
Suppose you are searching for inexpensive artwork and are not too concerned about exclusivity. In that case, you can visit homeware and interior design stores such as Primark, Habitat, and La Redoute. They have a variety of wall art options to choose from, and most of their stuff is in line with the recent home décor trends.
Finally, if you are looking to find one-of-a-kind wall art pieces but are strapped for cash, vintage or thrift stores are your best bet! You can find amazing vintage wall art pieces that look fantastic with just a bit of cleaning and upcycling.
Takeaway - How to Pick Wall Art for Your Home?
John Lubbock emoted very aptly that, "as the sun colours flowers, so does art colours life."
Along with beautifying your home, wall art serves many purposes; it strengthens your home's style and theme. It adds character to your house and brings you comfort and tranquility. Plus, it showcases your aesthetic and artistic expression to be shared with others.
You have millions of choices to decorate your home, from inexpensive to expensive and limited edition paintings to customized canvases. Whether you want to design your home by the room's purpose, or you want the home's architecture or history to inspire the decor, you have countless ways to embellish your walls.
Here are the key takeaways from the article:
Let your home's architecture inspire your wall art.

Choose wall art by keeping in mind the room's purpose. Bedrooms, bathrooms, and shared spaces all have their own purpose, so choose the wall art to strengthen that purpose.

Pick wall art in multiple mediums. Don't hesitate to mix it up by adding metal, glass, and wood art along with traditional framed art and canvas prints.

Choose a wall art medium that goes well with the style of your home, your decor, and your personal style.

You can source art from local galleries, online art curators, home decor shops, and vintage shops.
Most importantly, stay true to your aesthetic, and have fun!