Establishing a single definition to explain a great interior design is not possible as interior designing is not a skill; but in fact an art. It's an art that not only speaks differently but is also implemented and perceived uniquely by everyone. For a few combinations of paint, textures and fabrics in different ways can create a great design but for a few; simple, clean straight lines blended with the modern furniture are enough to create a statement. A good interior design from a user point of view is the one that results into a comfortable, functional, practical and convenient interior that defines or reflects their mood, life style, personality and taste.
Today, generally large and open houses from the past have been reduced to small living spaces, due to economy and convenience, such as studios, apartments and tiny homes. This new lifestyle and space requires careful planning of interior that should be practical, functional, utilize every inch of space (in fact increase it by vertical space usage) and at the same time look aesthetically pleasing.
Artificially created feeling or Illusions of space combined with brilliantly designed furniture pieces, practical storage ideas and thought out organizational plans combined with basic interior design principles for small spaces can only help us achieve the required interior.
1. Create Illusion of Space
Choosing right colours and making right combinations of colours can optically increase or decrease a space. It is always wise to consider the optical influence of a colour in the given area before finally implementing it. Wall and floor colours serve as the foundation stones of any successful interior.
Light coloured walls make the room feel airy and larger in size. Darker colours on the other hand give the reverse effect by absorbing light, instead of bouncing it back. A white ceiling with cold bright shades on the wall (cold bright blue as below) or maybe a wallpaper of the same shade with patterns of small size can give an expanded look to the room.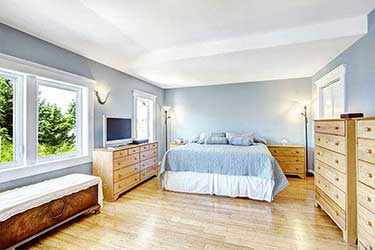 Ceilings can be optically raised with the use of bright cold colours. The safest approach when it comes to the use of colours is to keep the walls and ceiling of the same light colour.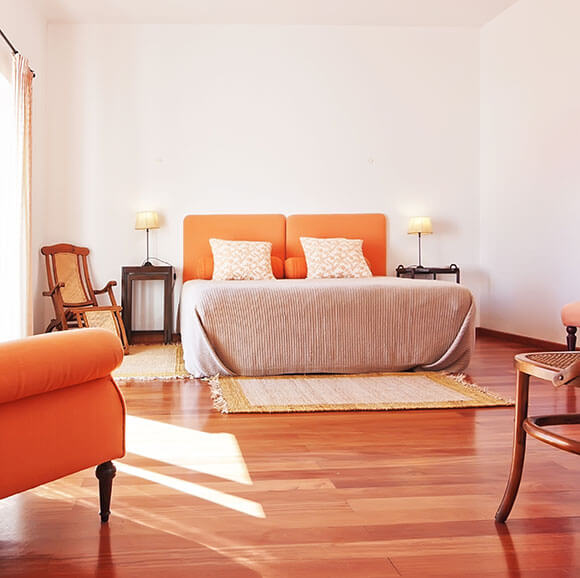 In case you have a small space, avoid wooden panelling, wall papers with large patterns or very dark colours on the walls as they give the room an appearance of being smaller in size than it actually is.
2. Maximize Floor Space
Instead of losing hope over a small space, concentrate on maximizing the space you already have with the selection of the right wall and floor colours. Use large size and light coloured tiles on the floors of rooms, bathroom and kitchens to make them appear less cluttered and spacious. Using similar light colour on walls and flooring can make a space appear much larger and airy than it actually is.When covering the overall area of the house try to keep the same style of flooring throughout the adjoining rooms. This can create a sense of continuity and give the effect of a larger space. In case you want to create different zones in the same area, like for seating or studying, use floor rugs to achieve the desired look.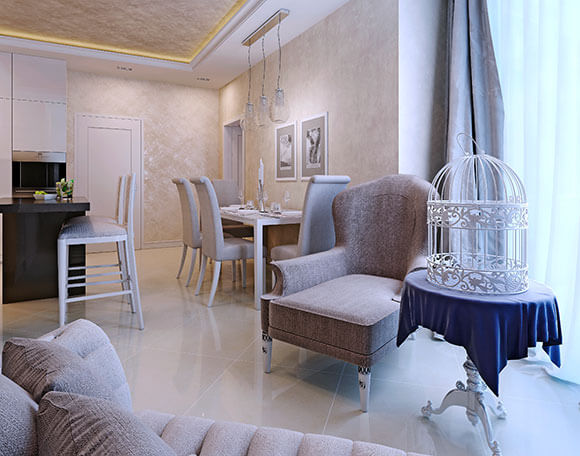 People generally avoid putting wood on vinyl flooring in small spaces. With the help of few tips and tricks of laying wood or vinyl flooring the effect it is supposed to produce can be altered. The first and most important point is to make sure that planks, instead of strips are used to lay the floor. The reason behind this being that wide plank flooring has fewer seams and it can create a pattern that is more open and less busy as compared to the pattern created with the use of strips of vinyl and wood.
Make sure that boards/blanks are placed parallel to the longest wall to produce the look of an elongated room. In a few, laying the planks diagonally can make a room look visually bigger by making the eye view the flooring from a different perspective. Same design applied consistently across the home can produce the illusion of more space.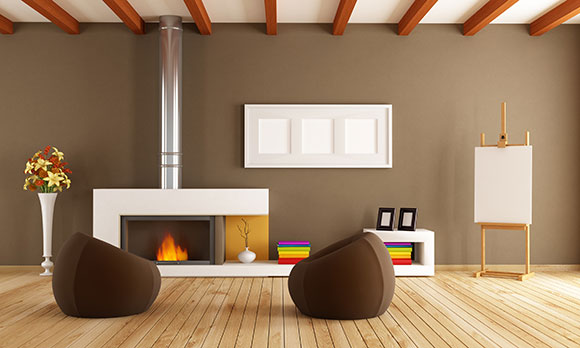 Choose wood or vinyl in neutral tones and simple patterns as light colours, less seams and more subtle grain combined with appropriate colour on the walls and ceiling contribute to producing interiors that looks opened up and spacious.
3. Window Treatments
Maximize the entrance of sunlight/natural light into your room as it serves as one of the best tool to create an illusion of greater space. Ideally leave the windows totally uncovered to allow natural light to flow through freely without any hindrance. Leaving the windows totally uncovered allows your small indoor space to merge with the outdoors and creates an illusion of depth and space.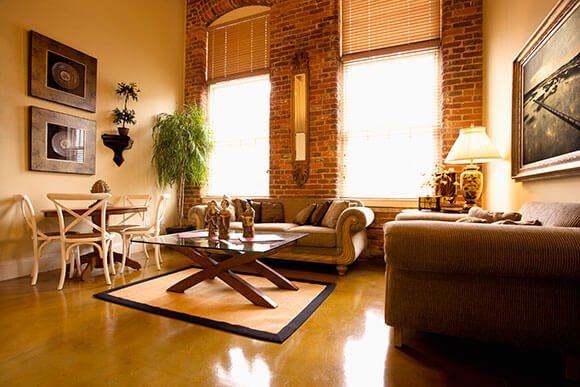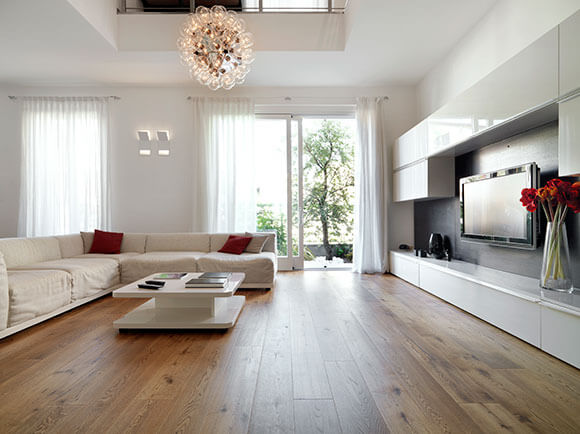 Use light weight and light coloured curtains in case a window treatment is necessary for the windows. The main point is to keep the window treatments to a minimum. Simple panels that can blend in with the colour of the walls of the room or maybe are slightly lighter in colour than the walls can also help in this regard. Try to keep them apart to allow maximum sunlight into the room.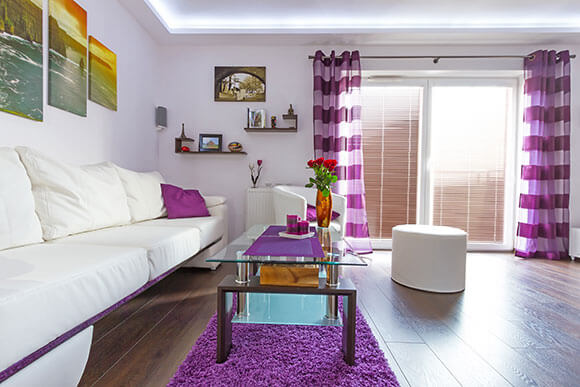 Elaborate and too fancy window treatments tend to break the continuity of an interior and visually divide the room to create an enclosed look and feel that is not appropriate especially for small areas.
4. Focal Point Creation
The main idea behind a focal point creation is to keep the eye mostly focused at one place. Focusing on one point draws our attention towards it thus allowing the eyes to ignore what is going around in the room. Focal points can help us keep the focus off from the environment, thus creating a sense of spaciousness, as too much going around can kill this sense.
To attain maximum sense of space through the focal point place it in a location that the eye is automatically drawn towards it and the rest of the décor is laid around it in a way that the eye keeps its focus on the focal point and does not wander around at individual elements or surroundings. Focal points can be any prominent piece of décor, item or feature in a room that can draw all the attention towards it.
A striking headboard that extends all the way to the ceiling can definitely create a point of visual interest and thus serve as a focal point.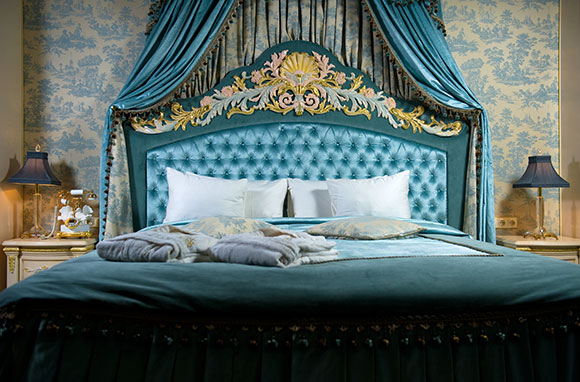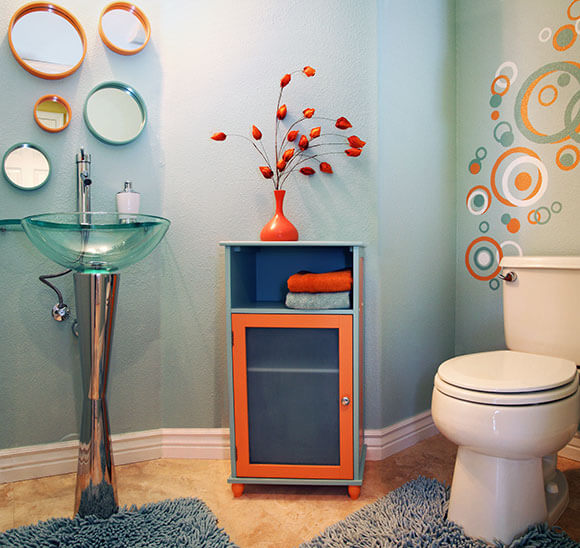 5. Use of Vertical Spaces
Putting up shelves and cabinets at height on wall can help us take the advantage of unused vertical spaces. High shelves and cabinets not only help in creating valuable space for storage but also free up floor space from many un wanted things and distractions, thus making the room feel spacious and less busy.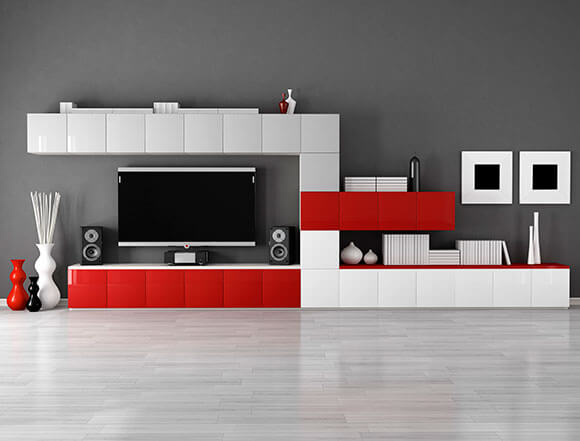 High-mounted shelves and storage compartments can also make the room appear taller by drawing our eyes in the upward direction. Make sure that the cabinetry or shelves at height are light in colour and are not in too much contrast with the walls. Too much contrast or solid colour will give the feeling of cutting the space into smaller pieces and not letting the eye glide through and feel the spaciousness.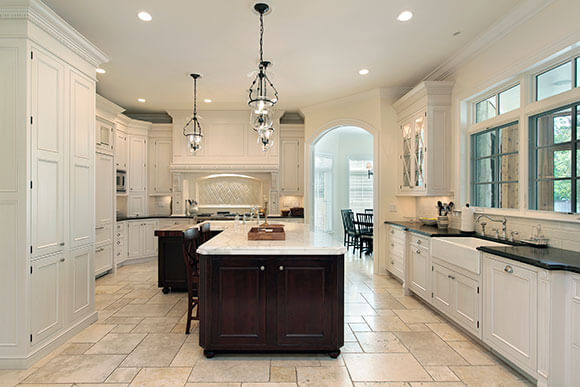 6. Use of Mirrors
Mirrors serve as the best tools for creating an illusion of space. They possess the property of amplifying natural as well as artificial light and then radiating it throughout the room, thus making the rooms' interior much brighter and the room looking much larger than it actually is. Creating space through this illusion is critical in designing any small area and it can be safely stated that there is no better friend then a mirror for a small apartment or space.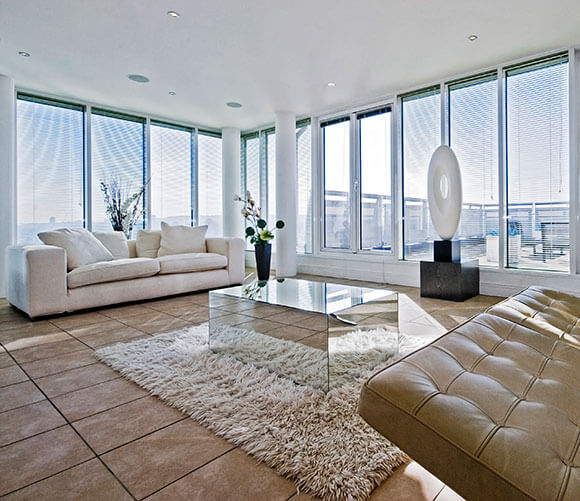 Large mirrors extending from floor to ceiling, mirrored cabinets and door fronts as well as mirrors placed between wall cabinets and work tops can contribute in creating a spacious look.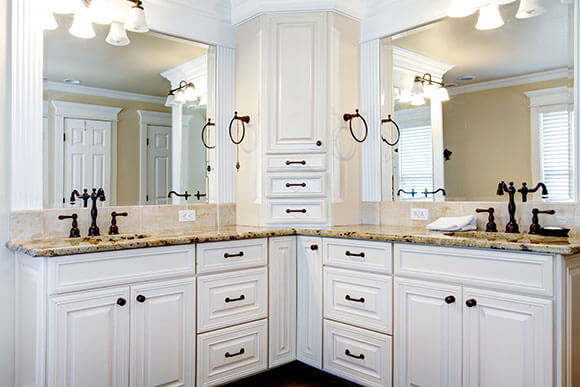 Install mirrors behind a light source or towards the focal point of the room to give an illusion of depth which in turn will ultimately translate into the illusion of spaciousness.
7. Digital Canvas Prints
Beautiful and modern digital canvas prints can create interestingly unique, customized and beautiful accents on the wall. These prints can create any desired look and mood. Ranging from traditional designs on the wall to creating a vintage look, these designs can help to enhance or create any look that is required. Natural backgrounds such as landscapes and seascapes bring nature inside your house. They can lighten up your mood and create a feeling of calmness.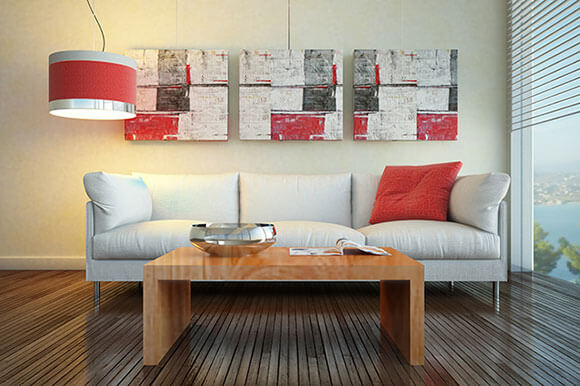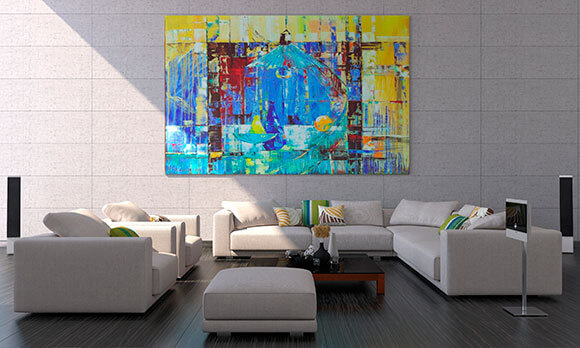 These canvas prints if designed intelligently and put in the right place can act as tools for creating an illusion of space in a small studio. Focal point in a room can also be created through these canvas prints. Vertical striped canvas going through the height of the room can create an effect of taller walls. Walls can also be stretched through horizontal striped canvas prints to create an image of larger width. The trick is to keep the room décor very plain and simple to make the stripes work their magic.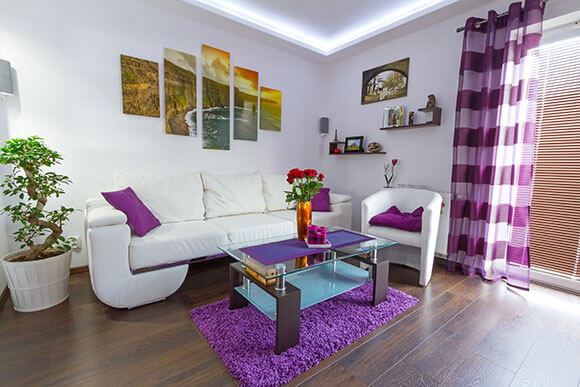 8. Placement of Furniture
Placement of furniture in any room can be a challenging decision. Especially when it is a small room and the furniture has to be placed in a way that the room appears spacious and not cramped up. Generally all the pieces of furniture are placed against the wall to create space in the centre. Consider a fact that leaving a bit of space around the furniture can give the effect of space opening up which looks and feels better. Placing a couch even a few inches away from the wall can create breathing space thus making the space look larger to the eye. If you cannot move large pieces like sofas etc. because of space restriction, consider moving the side tables a few inches away from the sofa to give an illusion of open space.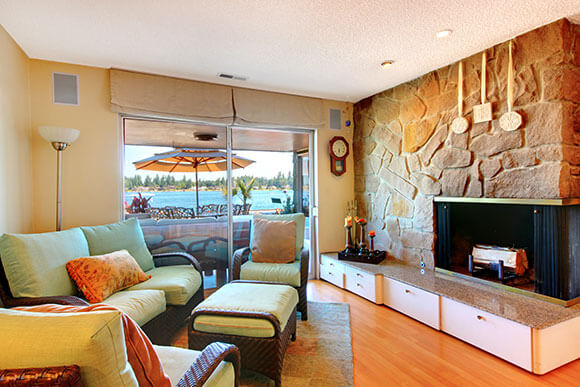 Keep spaces open in small areas and avoid breaking of space into smaller spaces. It is a fact that large pieces look better when surrounded by space but consider the point that nothing should block the view into the room, break an open space or divide the room visually. Avoid using a sofa in the middle of the room to separate seating area in small rooms as this tends to break up the interior into small bits thus giving a cramped and smaller feel to the room.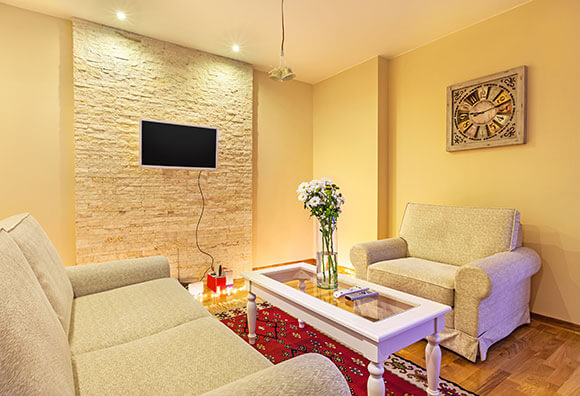 9. Transparent Furniture
Transparent furniture that includes glass and acrylic furniture is a great option for placing in a small space. Transparent furniture has the property of blending seamlessly with other pieces of interior and thus creating a feel and look of spaciousness. These transparent furniture pieces not only create an illusion of extra space (while fulfilling the functionality aspect of furniture) but also stand out to make a powerful style statement.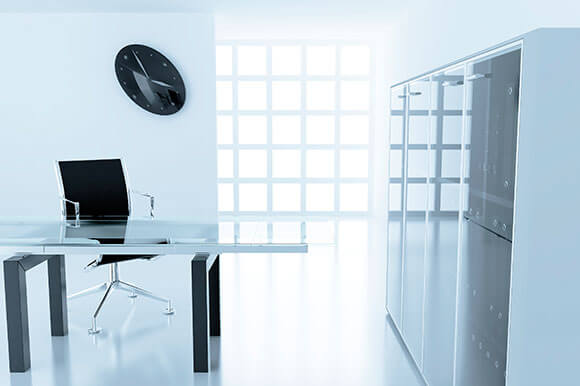 In case you cannot reduce the number of furniture pieces in a small room but are afraid of the fact that the room will look over crowded, transparent furniture can be the best solution.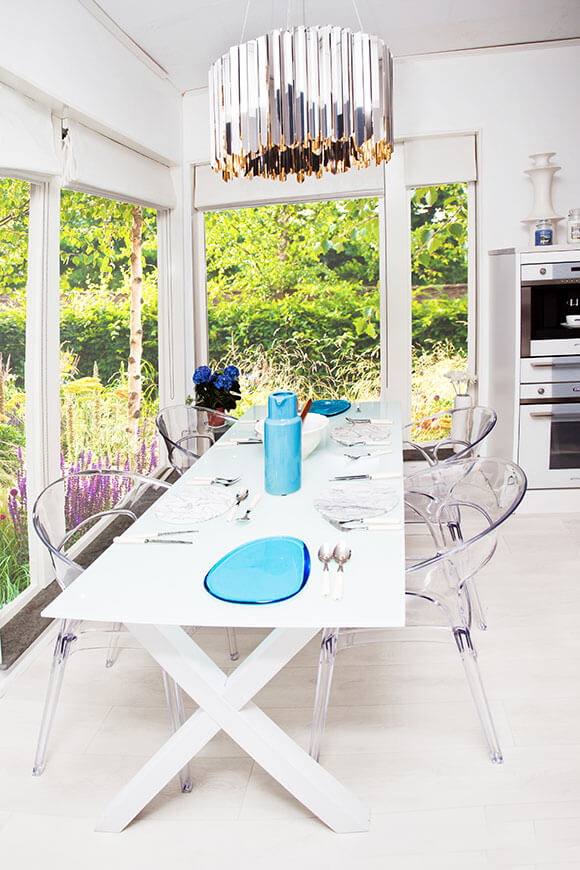 10. Focal Point Art Work in Living Room
If your small space architecture allows you put an inviting sofa in your living room against the wall, you can easily create a focal point by displaying pictures or artwork over that couch. This technique will help you to draw your eye towards the art and ignore the small size of the room.
Select a beautiful piece of art or your own photo on canvas and then place it in a balanced way over the couch to make it stand out. To create a balance, your artwork should be at least 2/3rd the length of couch. You can also place split canvas prints that should cumulatively (with difference between the pieces already included) be 2/3rd in size of the couch. The spacing between frame groups should be consistent and be around 2 to 5 inches at the maximum.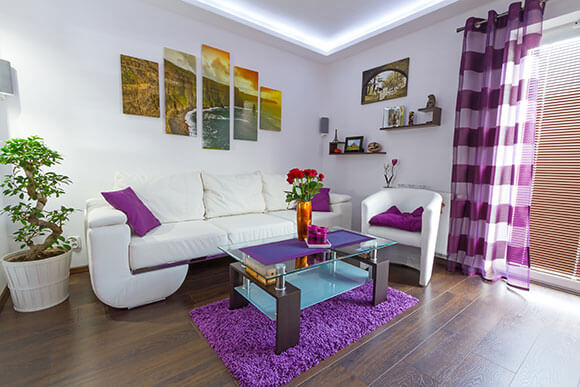 Considering the height of hanging the art work, no one rule can be applied as it's all about how your eyes perceive it. Generally the bottom of the frame or art work should hang around 8 to 10 inches above the backseat of the couch. In case of hanging an artwork too high, it will not look connected with the couch and thus not create the look we want.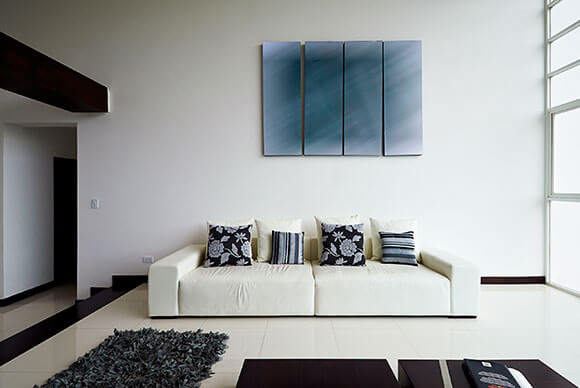 Before you finally make any holes in the wall for the art work, it's always a great practice to use newspaper cut outs of the size of the frame to ensure the best placement. Use easily removable tape to fix the cut outs temporarily, step back and have a look at it to ensure perfect height and placement and then go for the actual making of holes in the wall.
11. Boutique-Like Closet
If you love to dress up and feel pampered but do not have the luxury of a larger space to dedicate for a huge walk in closet, consider going for a classy, high-end yet glamorous closet that looks like a boutique. Carefully designed according to your requirements you can store all the clothes and accessories in style that will make you feel as if you are shopping every time you walk in for selecting what you want to wear. It can give you the luxurious feel of a 'custom closet' and helps you create big dreams in a small space.
Plan well organized cubbies and drawers for sweaters and other things that need to be folded. Special less deep jewellery drawers for your jewellery accessories should be designed in the interior. Clothes hanging area and a beautiful display for shoes and purses will complete the boutique look and feel.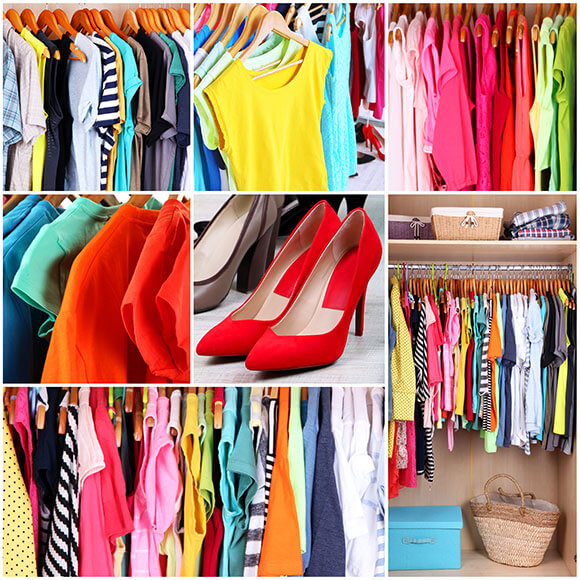 If the space is limited and you cannot accommodate proper cubbies, shelves or drawers, you can still create the same look and feel through open shelves on a simple well painted and intelligently designed wall.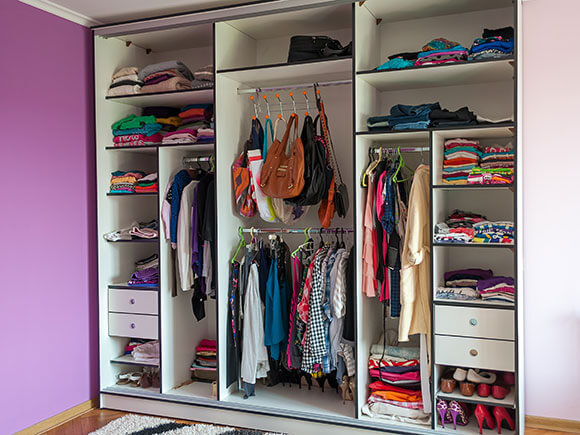 12. Intelligent Bathroom Storage
The two main requirements when designing a bathroom are practicality and functionality. When you have a small space to work with, and do not have extra space outside the washroom to store toiletries and other everyday washroom items, you need to create intelligent storage spaces inside the washroom. Ensuring that you do not occupy a lot of floor space for shelves and storing units, occupying vertical space is the answer. Use wall areas intelligently by placing storage units in such a way that they do not look messy or cramped.
Shelves above the toilet area are one of the best solutions, perfectly utilizing vertical space left unused above the toilet.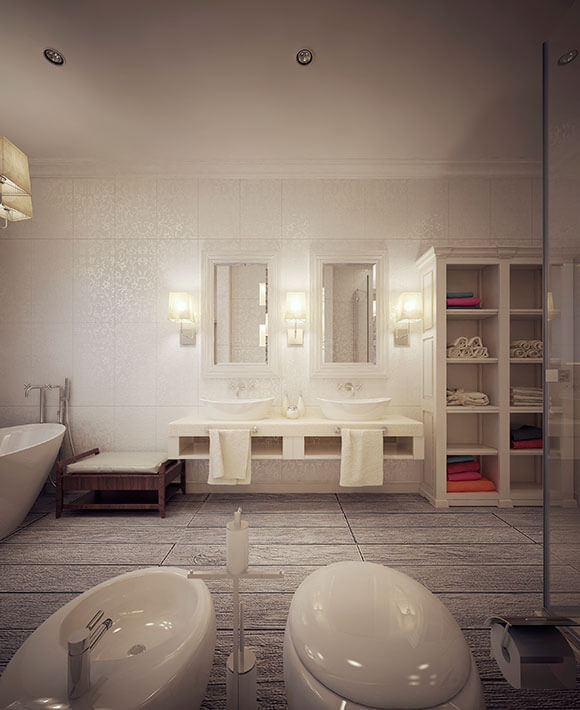 Create storage space under your open vanity through both enclosed as well as open storage spaces. You can store towels and other items inside the drawers and use the open shelves for attractively arranging items to enhance the beauty and to support the colour scheme of the bathroom.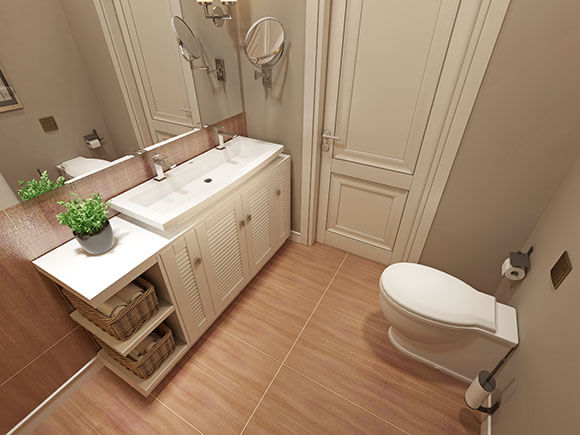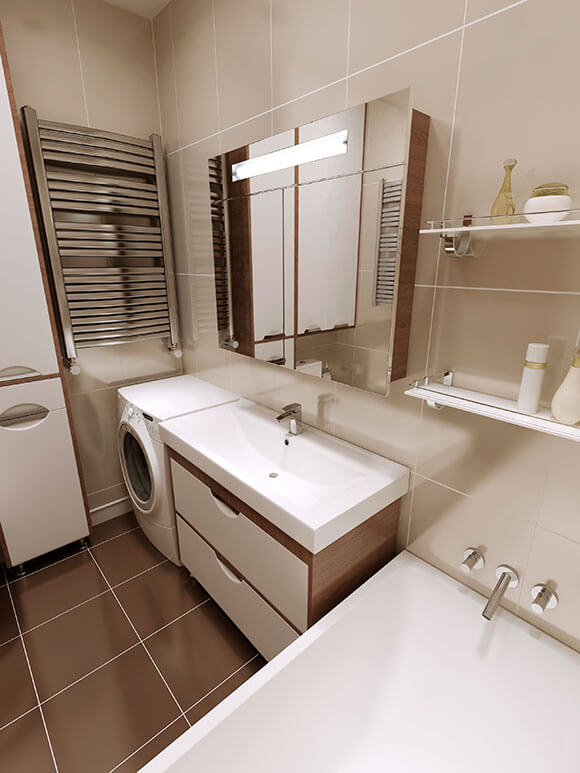 13. Closet Office
Space is always a big issue for decorating small apartments and homes and thinking about a home office or personal work area in such an apartment seems like a dream. Well not exactly! With a well thought out plan you can easily create a small and functional work area or office space by utilizing a closet, a wall niche space or a room corner.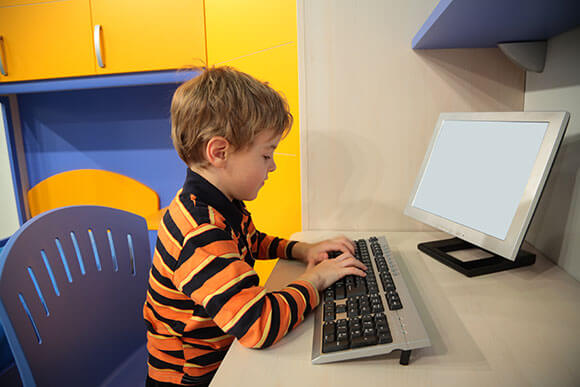 Folding office furniture items such as folding chairs and tables along with portable workstation cabinets like workstations on wheels provide a convenient and space saving practical design for an office. If you want something simple simply remove the door off from the closet, remove or adjust the shelf height according to your convenience (or remove the shelving and insert a table that fits into it), clean and paint the area and insert any shelving required for work above the work top. Leave the space open if you want or hang a decorative Roman blind to cordon off the area when not in use.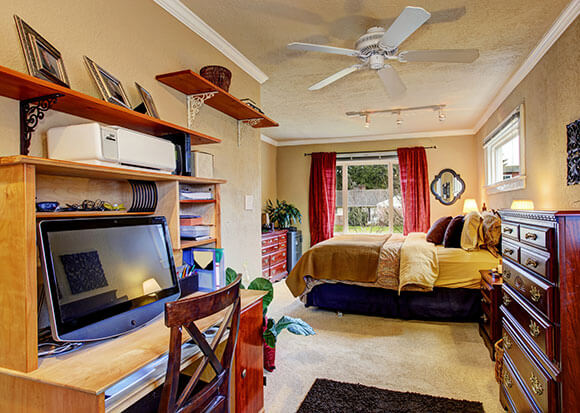 With careful and intelligent designing a small functional, comfortable and stylish work or office space can be created in no time...
14. Smart Work Desks
Are you starved for space but need to incorporate a small work place or office in your already cramped up living space? Completely collapsible workspace can be a solution to this problem. The desk folds up and occupies the wall to create more floor space in the room.
An intelligently designed smart desk can also be a perfect work table for kids as it can also accommodate stationary pieces, story books and other items inside it even when closed from the front.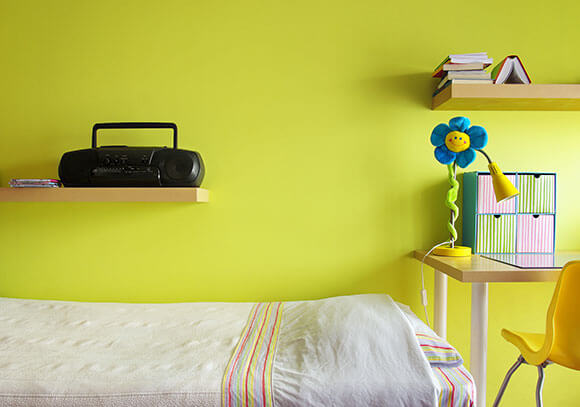 Another solution for installing a work desk without cramping up the interior is to utilize small unused corners of the house. Create a compact floating work desk that utilizes vertical space. Complete your work desk by adding a small folding chair that can be folded and put away when not in use.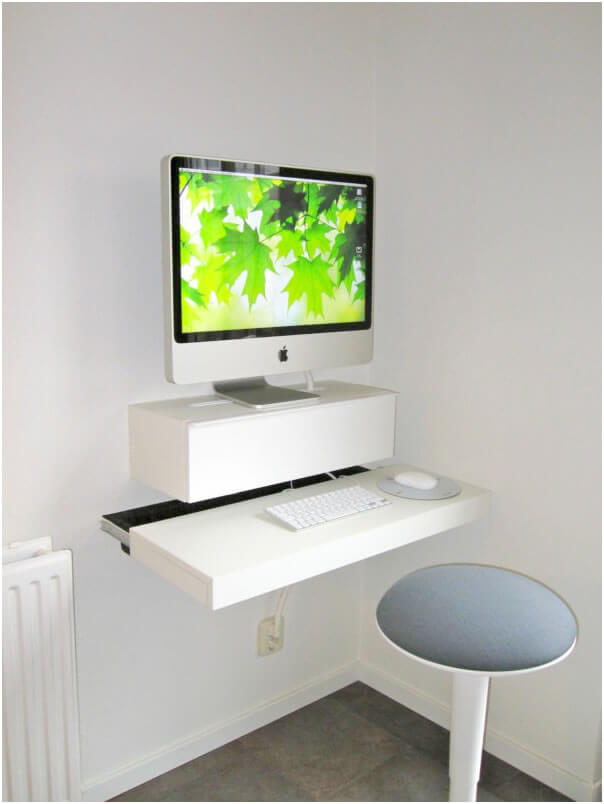 15. Use of Pegboards
Intelligently installed pegboards can be an excellent idea for maximizing and organizing storage in a small apartment or studio. Pegboards are ideal for small spaces because they organize and hold things by utilizing vertical spaces in a room. Pegboards maximize the functionality of walls thus increasing their storage capacity in the most sophisticated manner.
One best way of minimizing clutter and avoiding a busy look on the walls can be to place the pegboard on the back of a door. You can go for whatever size you want and then hang in the things on it. This will help you maintain the overall look of the room, keep it organized and hence increase its functionality.
Pegboards can be used anywhere and in any room of the house depending upon the look of the pegboard which can be enhanced or altered by many different ways. Painting or framing the pegboard can take it to another level and create style to suit the mood of the room. Colourful pegboards can be used to organize kid's toys and school supplies. When used in closets, they can enhance their functionality by hanging in accessories like belts, purses and other things. Home office equipment, craft areas and other workshops can be created in a small room through the use of pegboards that can hold many tools at one time.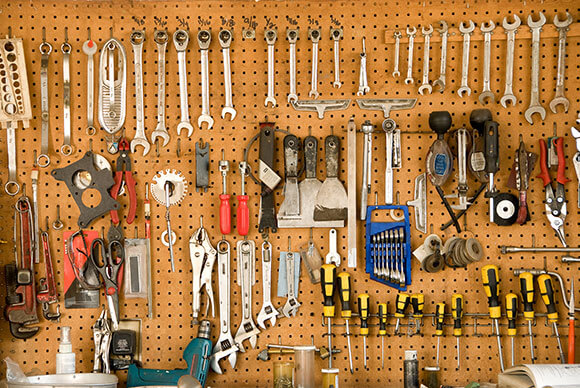 In the kitchen they can be utilized to hold baskets for spoons and other cooking utensils like pots, and pans.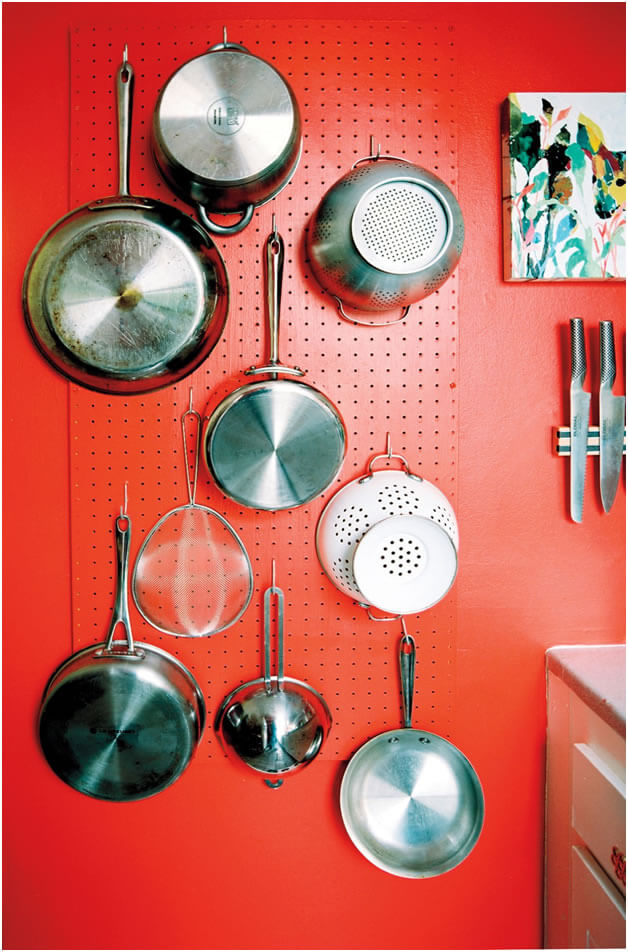 16. Behind the Door Organizers
Over-the-door organizers have the excellent advantage of:
1. Being an out of sight storage (As it is behind the door and generally out of sight is out of mind :) –meaning that it does not contribute to clutter or make the room look busy while still accommodating a lot of stuff in it)
2. For utilizing vertical space, keeping the floor free, while storing many things in it.
These organizers can be used in any part the house be it kitchen to store spoons, ladles and small baking moulds to holding tools in a garage. They are versatile and can be used in kid's room to hold dolls and toys or behind the closet door to hold shoes and other accessories.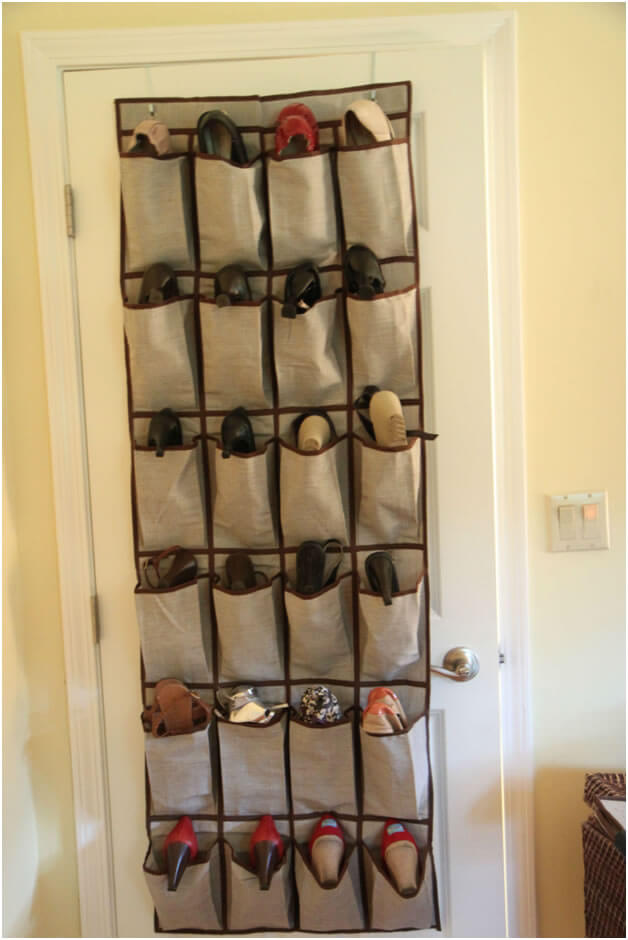 These versatile organizers effectively enhance storage space in every room of the house.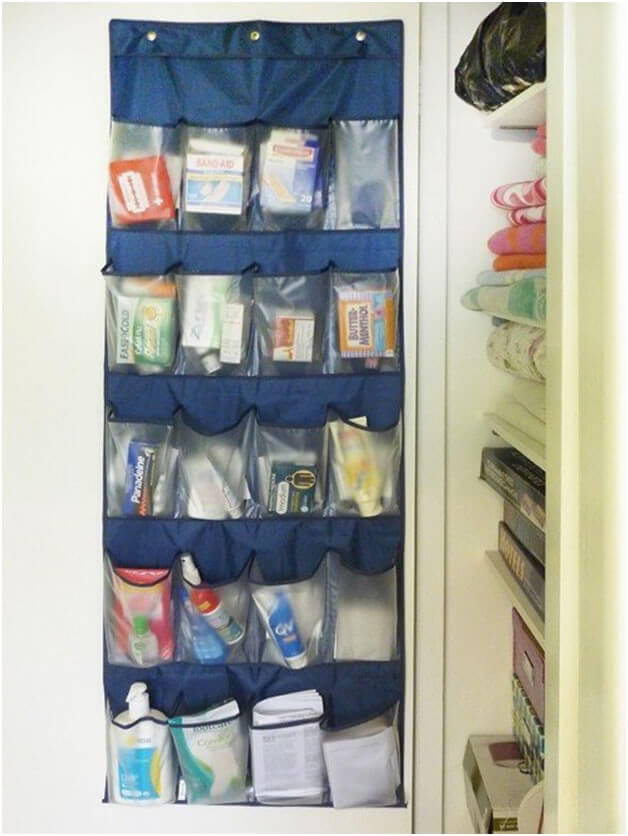 17. Iron Board Mirrors
Iron board Mirrors are a great space-saving practical idea. They are an excellent, multipurpose utility tool for performing two consecutive actions, ironing and dressing up, thus helping in saving time and space.
Practical and functional mirrors can easily be converted to an ironing board by tilting and locking it into a horizontal position. The ironing board can then easily be flipped back into a full-length mirror after ironing is complete. These mirrors can be a very useful addition to any wardrobe or closet.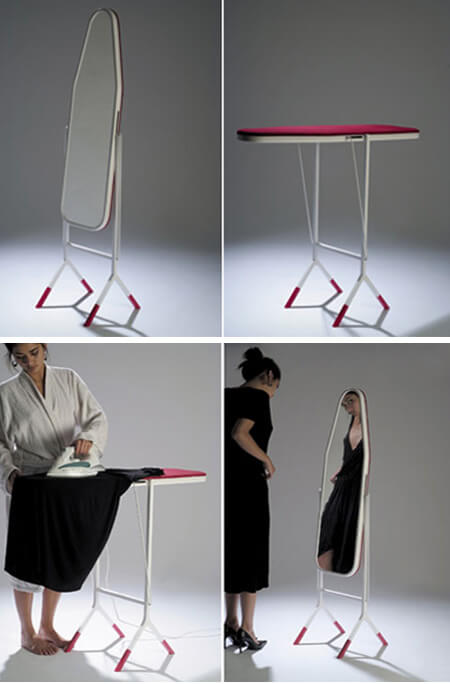 18. Smart Apartment Designs
Are you are striving with the problem of having a small space at hand but big dreams to decorate and accommodate many things in it? An intelligent design to maximize utility and functionality of the same small space or area can be the answer. Through careful planning you can create a space of your dreams in a compact area. Let's view a few examples to make this clear: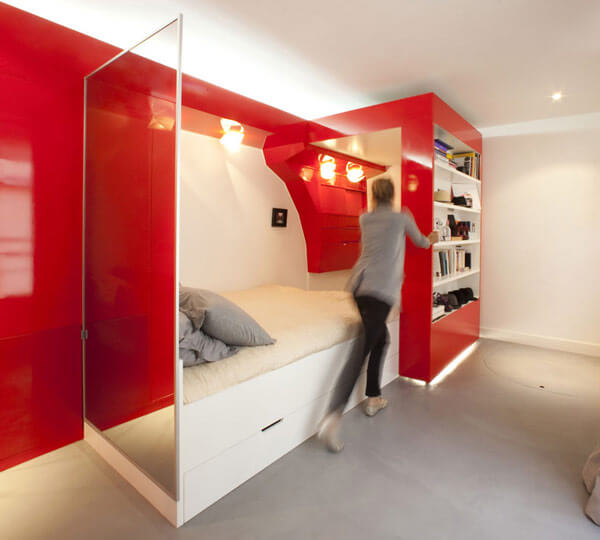 This structure incorporates a bedroom, bathroom, dressing area and workspace through a system of moving shelves. The bookshelf is mounted to a track that slides back and forth to reveal or hide the sleeping and dressing areas. On the other side of the wall there is a workspace. Storage spaces are also available in the wall behind the display shelves. The use of mirrors in this intelligent design increases the space visually.
This cube intelligently designed and placed in any small area can increase the functionality of the room without taking much space as it incorporates a bed on the top with and office space, a nice book case along with a good size wardrobe under it.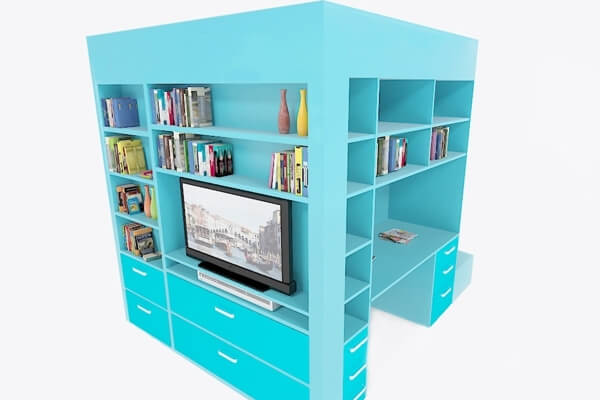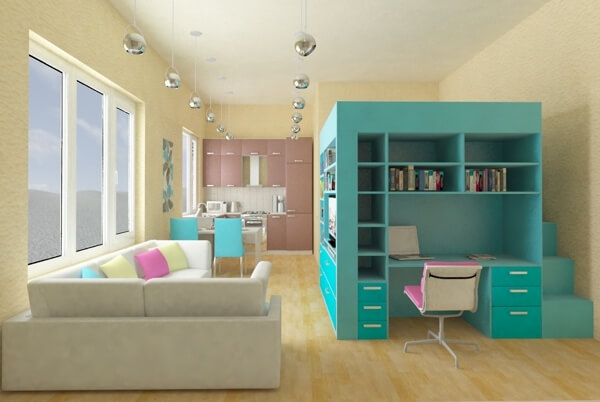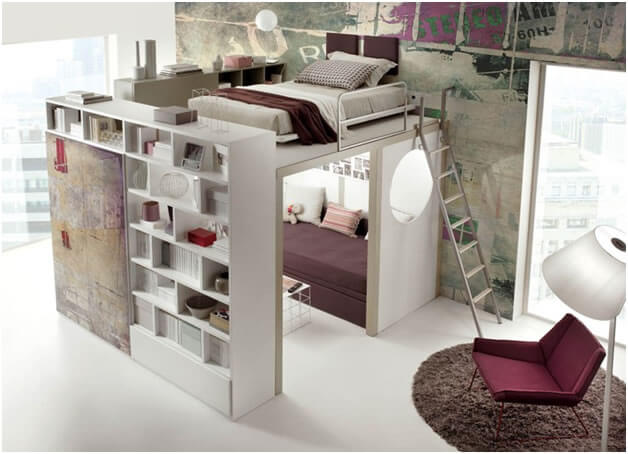 19. Under Bed Storage
Beds are an inevitable part of any décor. Whether the area is big of small a bed has to occupy the most space in the bedroom. Ever wondered how we can increase the productivity or functionality of the bed area without compromising on comfort or luxury. Throughout the years drawers under the bed have been used for storage which was never a very good option as they were sleek drawers that took in dust and particles from above. For normal beds bed skirts were used to hide things lying under the bed. These bed skirts created an effect of a smaller cluttered space in a small room.
Today, furniture pieces are designed to utilize the whole space under the bed for storage. The bed can be given any modern design or look with added functionality of deep hidden storage under the mattress base. The storage can only be exposed when the mattress is lifted with the help of a strong but simple mechanism. Usually the best is the use of gas lift hydraulic pistons to raise the mattress support platform in the most convenient way. The bed can be upholstered in leather or any other material to create the desired look in the room.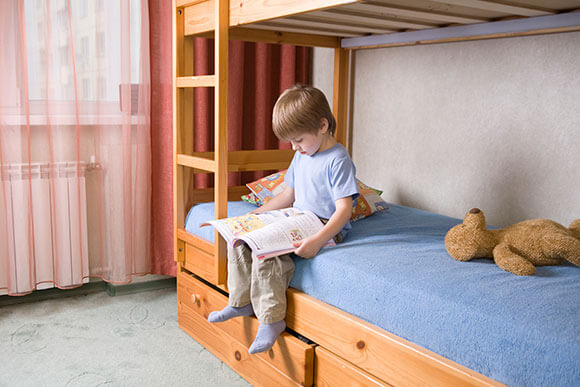 These spaces created are sealed from sides and do not take in dust unless the platform is lifted and the area is exposed. It can serve as an excellent way to conveniently store especially the bulky beddings and other things.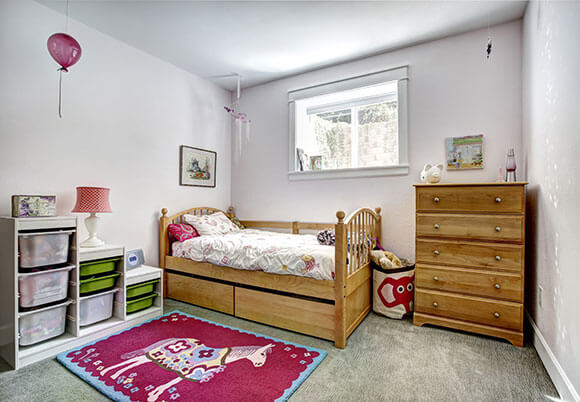 20. Accommodating a Little One in your Interior
If you live in a small studio and have a baby on board, you need to seriously work on ways to maximize space to accommodate the little one without any hassle and give the one enough floor space to crawl around and explore. Baby crib is the first thing on any expecting mothers list of goodies. The crib has to be a careful selection when dealing with small space. There are hundreds of space-saving, multipurpose crib options for the babies available in the market today. You can even get a customized wooden cot made for the baby if you have certain space reservations.
One of the excellent ideas to implement here are to take out shelving's from inside the closet and fix the cot inside it instead. This trick will help you to save lots of visible floor space and will also give the baby a chance to roll on the floor. Match the cot with the colour scheme of you room, add in a few bright colours in the cot beddings and let the baby smile :).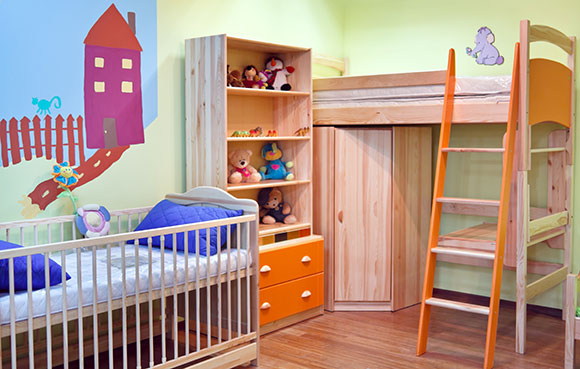 You can even keep the top shelves intact and use them to place soft baskets there with the baby's belongings in them. The under drawers of the cot can also serve as a great place for saving baby's clothes and shoes. You can also utilize space on the sides of the cot by hanging small baskets for putting in baby stuff.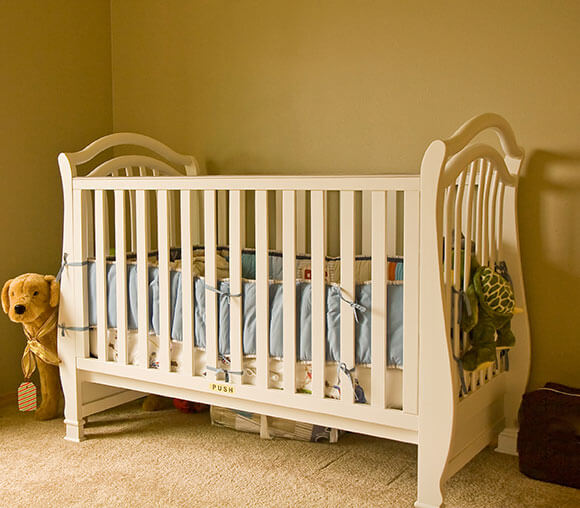 21. Use of Hammocks
Hammocks, earlier used only for outdoor adventures have now taken an important place in the interiors of living spaces. Today they come in different sophisticated shapes and sizes and can be added into the interior at different places. Hammocks are particularly helpful in increasing the functionality of small spaces as they do not require a standing structure on the floor that would take place, but are hung to the roof in vertical space.
Hammocks can be utilized for extra seating in any area for kids as well as adults. They come in different colours that can match the colour scheme of your interior or can also be used to add the little splashes of colour required to jazz up any interior.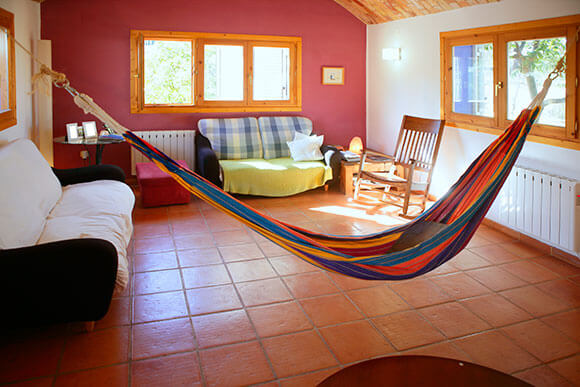 Toy hammocks are ideal for storing stuff toys and hence a perfect way to de clutter any space invaded by kids :)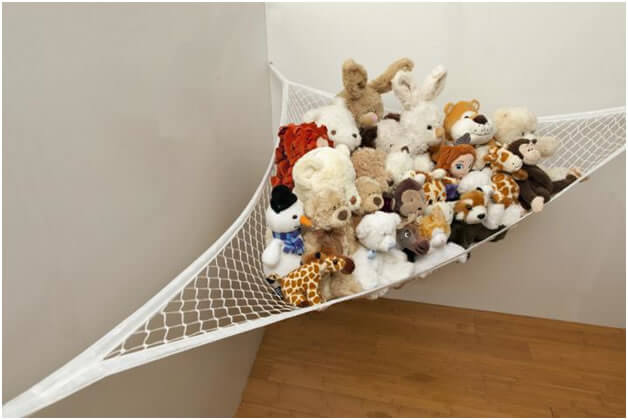 Large Hammocks tied securely to open spaces can be a fun way to expand floor area and functionality of an open space. They can be used for lying down and reading and sometimes as a sleeping place for the young.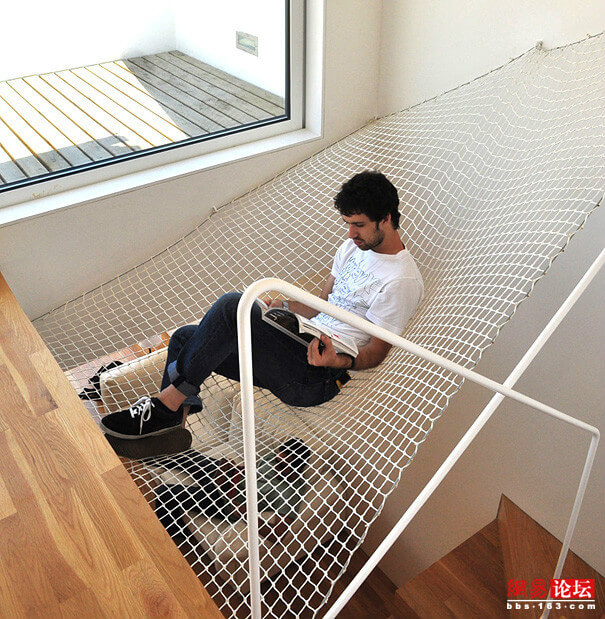 22. Sofa Beds for Living Rooms
Sofa beds are contemporary space saving ideas that can maximize valuable space in small houses. Latest trends in these sofas do not let them look like old sleepers in the first impression but in fact help them in creating bold statements as well as forming the focal points in the modern interior.
Sofa by the day and a bed by night, they are all you need in your small home or apartment to accommodate sleepover guests and also serve as a great storage places. These sofas have a simple tilting mechanism which helps them in transforming in easy sleeping beds. You can get the sofas exterior in leather or any material to provide more versatility and blending with the overall theme of the space.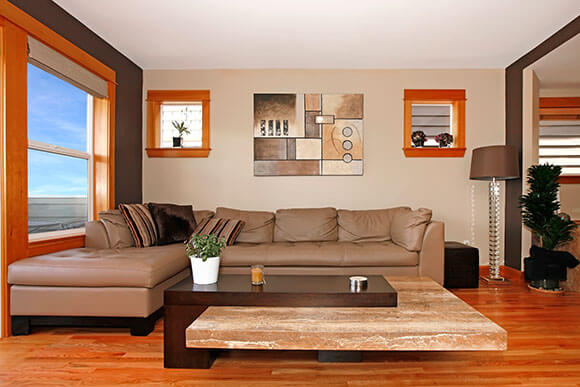 23. Smart Coffee Table
In a living room with limited space, storage is always a problem for newspaper lovers. When you have a small living space, the question: 'where to put the newspaper after reading it, when you again want to catch on it later in the day?', is almost impossible to answer. Combining a coffee table with useful storage space for newspapers in an aesthetically pleasing and contemporary design can be a solution to the above question.
The beautiful table layout has a built-in storage space for magazines, newspapers and books. This table can serve a as a perfect coffee table for a small living rooms and can be customized according to the décor and feel of the room.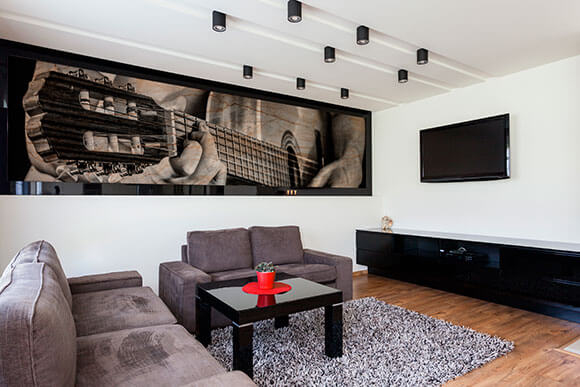 24. Nested Tables
Nesting tables are sets of two, three or more tables that are stacked together and can be pulled out whenever an extra table top surface is required. Nested tables not only provide useful table surface but are also great space savers as the take up less floor space which makes them ideal for small living rooms. These tables are interlocked within each other and form a ladder like arrangement (due to being ordered in size) when pulled out.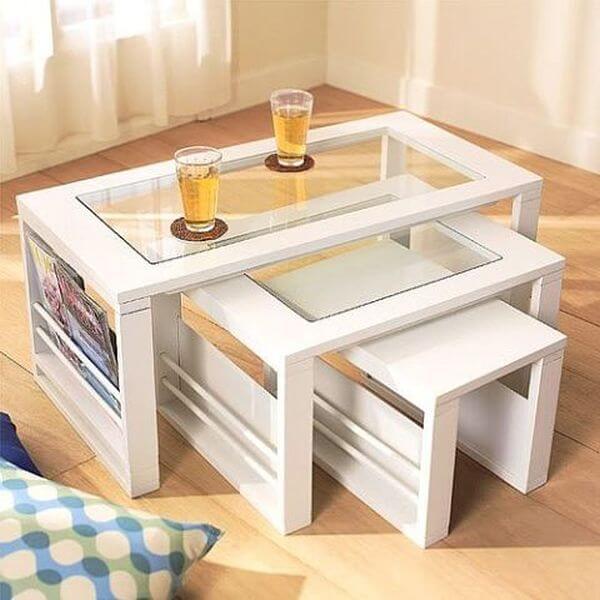 The nested tables as a whole can be used to showcase a variety of items including picture frames, Knick knacks, antiques or souvenir which can add a lot of value to the interior of a room.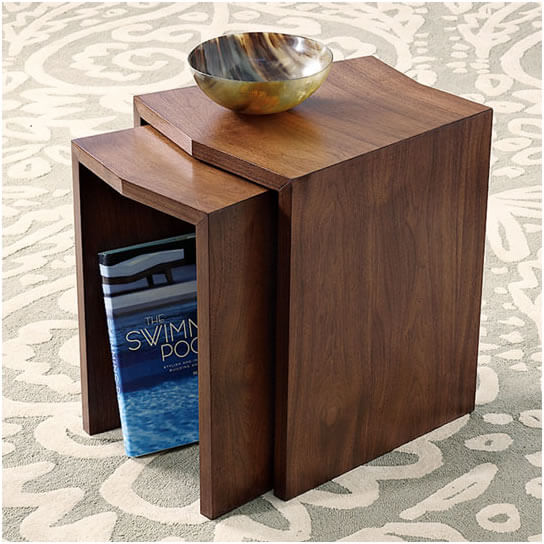 25. Relaxing and Reading Nooks
A wall with large sized windows or lots of windows is usually considered useless as no furniture piece can be placed in front of it for the reason that it will block the path of light. You can easily utilize and take maximum advantage of such space by creating a reading nook or simply and interesting seating area under or in front of the windows. The best utilization of space can also be done by adding storage spaces and drawers under the reading nook or seating area. Unused spaces like underneath a staircase, on a stair landing, inside a wall space or inside a closet can also be used to create reading nooks.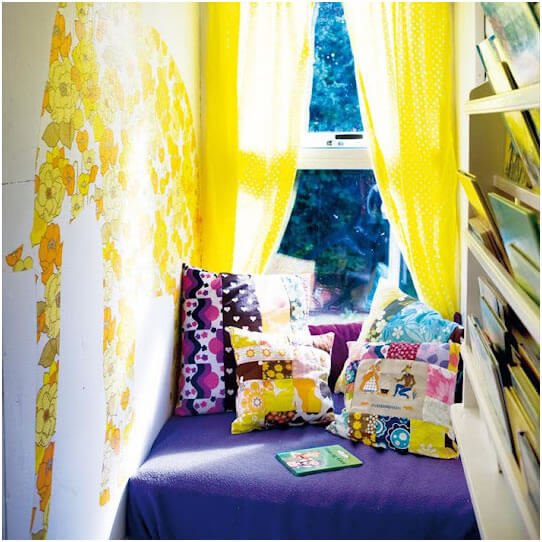 Designing a reading nook in your home can serve as a perfect space utilization technique that results into a wonderfully cosy nook to curl up and read.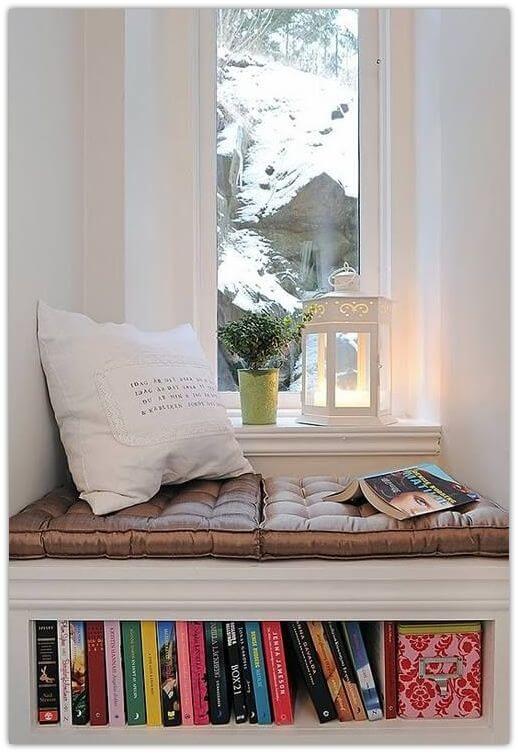 26. Dining/Living room library
Is reading is your passion and you own a large collection of books? Are you worried about how to store these books in the small living space when you cannot spare separate area for library? No need to worry as you can use this book treasure to fill up a library wall in your living or dining room.
This library placement can be used to create an effect of expanded space rather than cluttering it, with the use of a few simple techniques. A wall to wall, floor to ceiling bookcase can help you in this regard by providing a lots of storage for books as well as creating an illusion of expanded space by pushing the walls and ceiling out.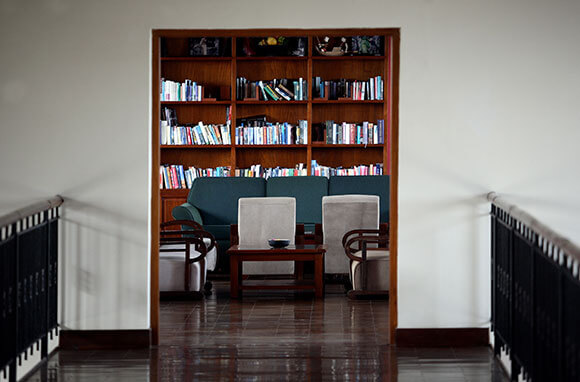 colour coordinating the books and using baskets or boxes of same colour will also enhance the overall look of the library. You can even use your dining table for sitting and reading books by merging the joys of good food with reading by creating the dining library effect.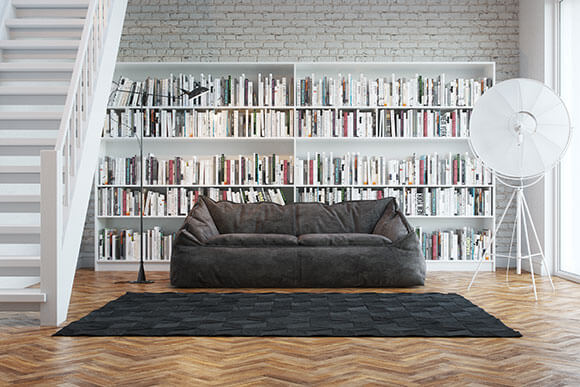 27. Hidden Compartment Table
Storage plan is one of the most important parts during a small space design. You do need a large home to maximize storage space in fact with a clever plan you can maximize storage without overcrowding a small space or adding pieces of furniture in the interior. Design your interior pieces or furniture in a smart way and maximize storage with the help of built-in storage spaces.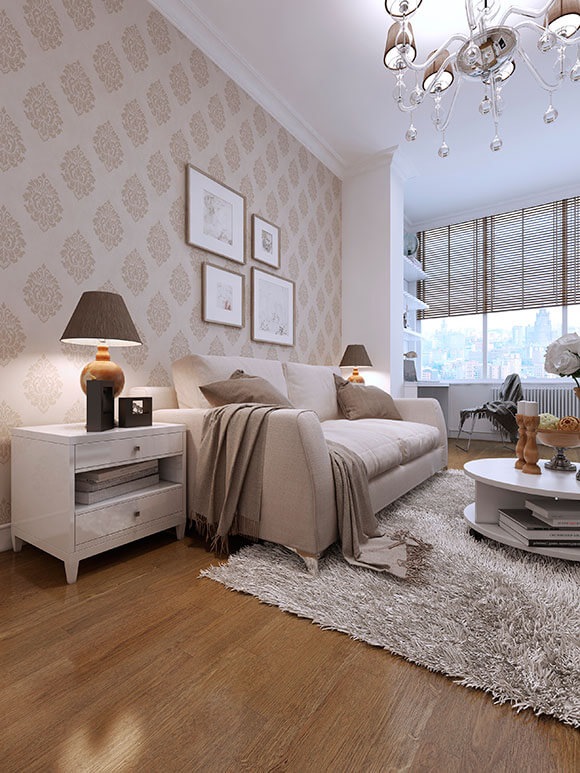 For small studio apartments you can have a simple wooden table such as a study table or even a coffee table with built in storage compartments and drawers. On the face of it this plain and simple wooden table enhances the décor by adding beauty and functionality and in actual it's a desk with several hidden compartments to store many important things.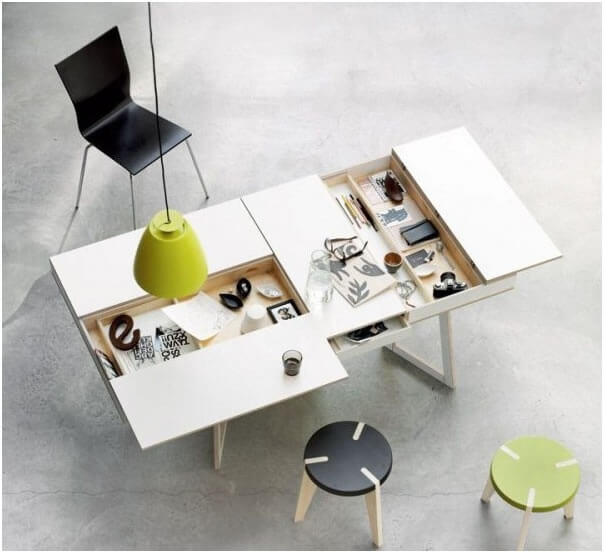 28. Picture Frame Table
For small spaces one has to maximize functionality of every piece placed in the horizontal or vertical space. With a few intelligent solutions, one can utilize the vertical space as well as horizontal on a need basis. A Table, considered as a space consuming functional piece of furniture can instantly turn into a decorative beautiful picture frame that occupies wall space. These tables/ frames instantly transform the look and purpose of a room and increase its functionality. This can also work best as a kitchen table. You can also replace the inside of the frame from artwork to canvas prints or mirrors according to the theme of the interior.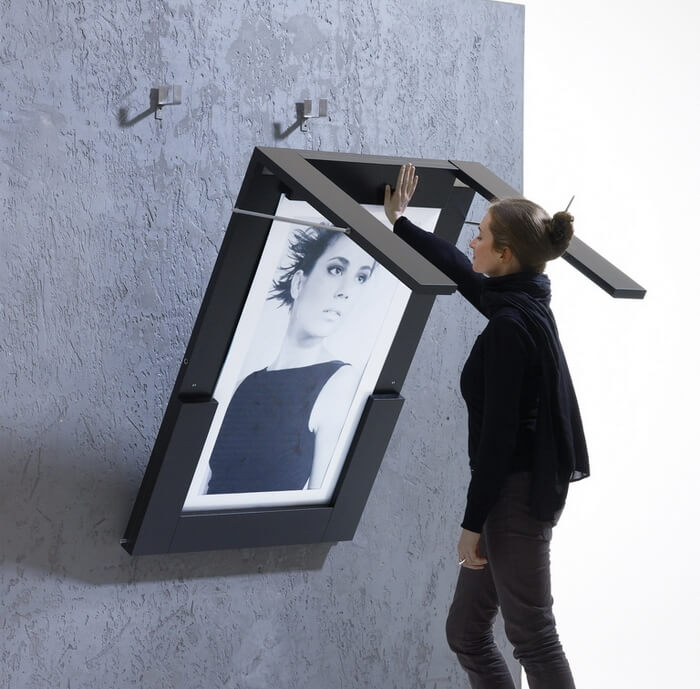 29. Wall chalk board
From kids who love writing on walls to people who love putting notes here and there (sometimes on the fridge or sometimes finding a pen to write the phone number they just wanted to note down) wall chalk board can be an excellent idea and addition to the house. Wall chalk boards, as beings a space created on the wall, can save lots of floor space as compared to traditional chalk boards on stands. Chalkboard wall can serve as excellent message board for organizing a home office.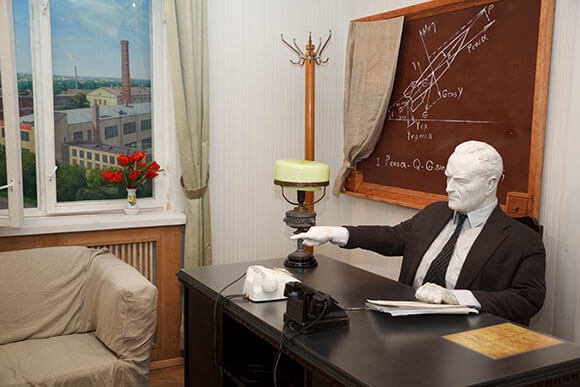 This is an easy DIY (Do It Yourself) Project and does not require much workforce to be implemented. All you need is a paint called chalkboard paint along with painting supplies to get the job done and you will never be worried about your kids writing on the wall again. The chalk board wall is a great fun way to keep kids busy, learning and organized.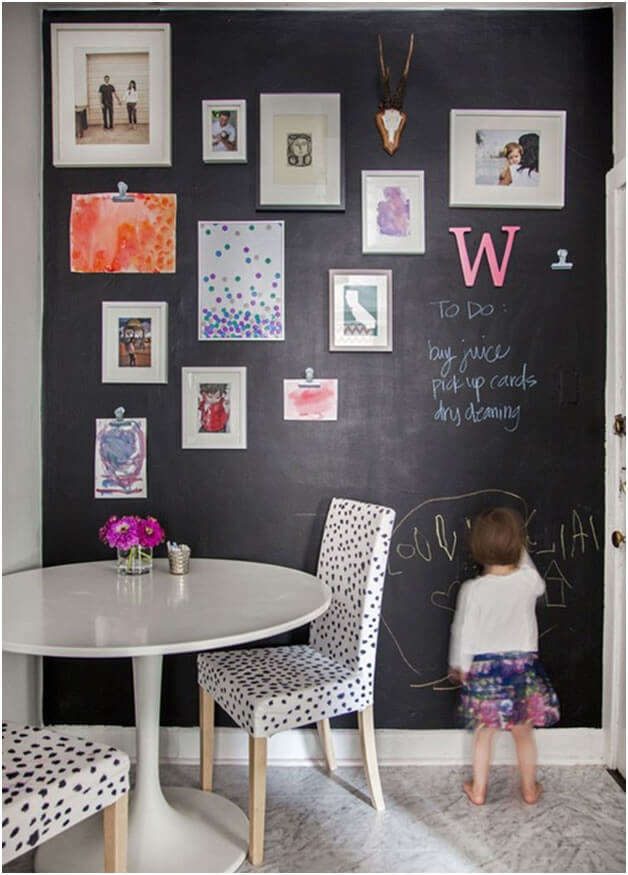 30. Convertible Kitchenette
Convertible kitchenettes are an excellent solution for small apartments. These compact but completely functional Kitchenettes have the property of converting into compact modern pieces of free standing furniture.
In small apartments where the kitchens generally take one corner of a living room sometimes a need is felt that the kitchen would disappear somewhere when not in use to create one single flow and harmony across the living room. Depending upon what size or piece of furniture the kitchenette forms after converting, the kitchenette can range from accommodating a few basic things for a small family to a completely full functional kitchen including sink, washing taps, fridge, microwaves, work tops and hobs for cooking.
This kitchenette below comprises of a sink, a fridge, a small cooking hob and little storage room easily transforms into sideboard when not in use. The side board can be easily matched with the theme of the living room to blend in it completely.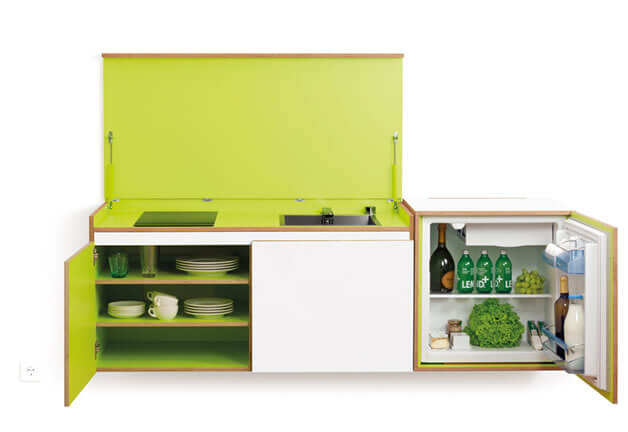 This fully-equipped kitchenette below with smart, space-saving solutions can easily meet all the functional requirements of a kitchen and then be easily transformed into a cupboard. It comprises of an induction hob, sink, taps, fridge, microwave, a fairly good size working top and storage space. The outer cupboard can be matched with the living room décor to create a statement.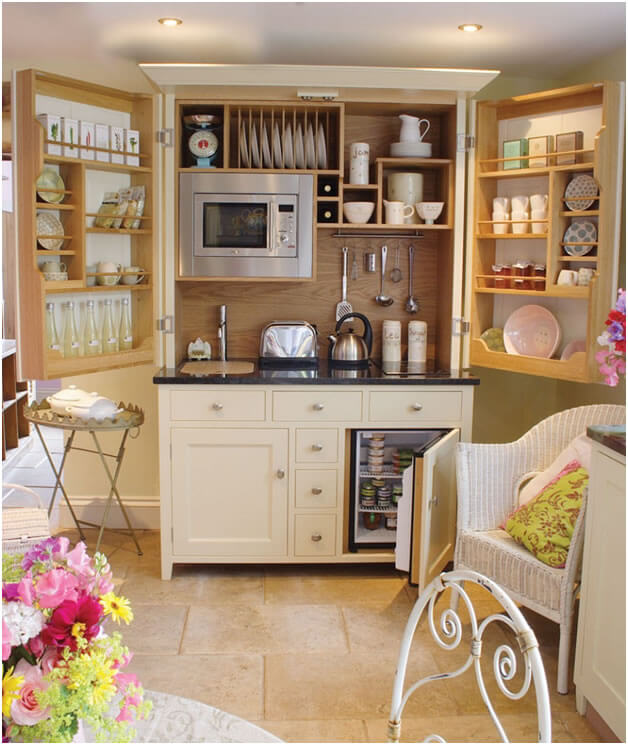 31. Creating Space in Kitchen
Definitely we cannot add or create more space to the already given kitchen space to us. But through intelligent choice of colours and combinations of putting them together we can create a look of spaciousness. The easiest to attain this in a small kitchen is to keep everything in white colour as white is considered to be the best colour for small spaces and kitchens. It has the amazing benefit of reflecting light and enhancing the sense of space. Cabinetry, countertops, walls and ceiling in white create a seamless space without edges or boundaries thus creating an illusion of expansiveness.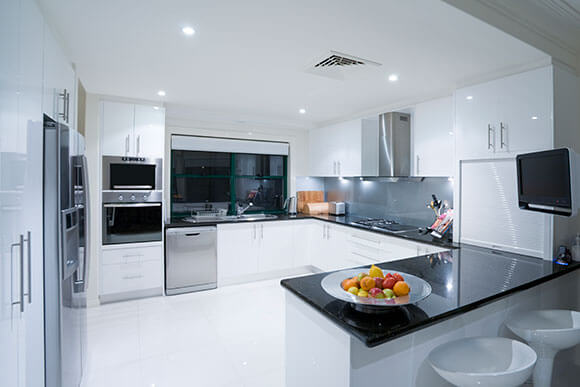 In case of using colours in a small kitchen area, go with a low contrast colour scheme. This will allow the eye to glide over the surfaces in the kitchen without any hindrance or stopping, thus tricking your eye to think that the space is larger than it actually is.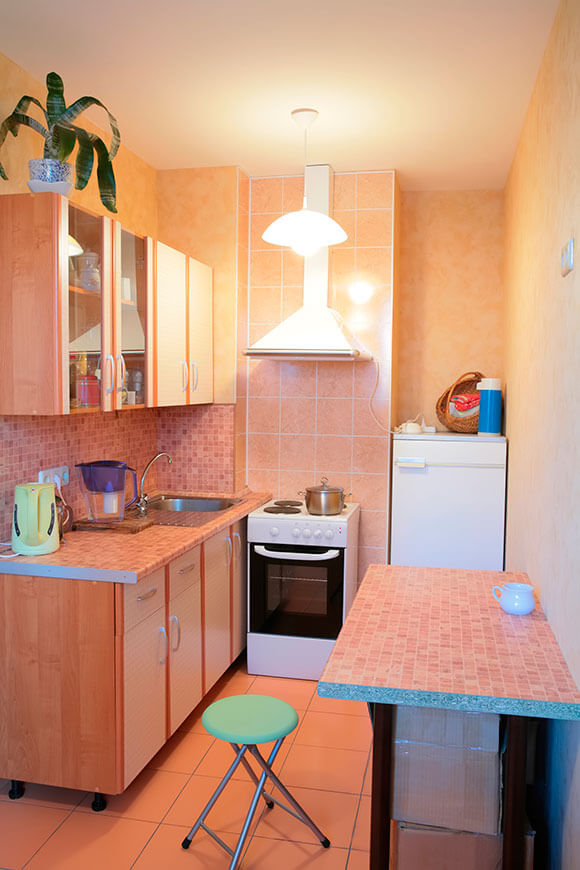 32. Kitchen Lighting
Illuminate your kitchen space and ensure that all the areas of your kitchen are lighted properly according to their purpose. The best lighting solutions can be achieved by combining the ambient, task, and general lighting in a way that they complement each other and present an aesthetically pleasing look overall. Use recessed or diffused lights every 4-6 square feet to cast a soft glow that bounces off the ceiling and walls to create overall light that makes the kitchen feel inviting through Ambient lighting.
Use recessed spotlights or floodlights to throw bright and focused lighting on areas where meals are prepared, cooked and utensil washing is done. These task lights should be ideally placed between the height of head and the work surface such as a sink, island or stove.
Highlight specific features such as artwork or architectural details with Accent Lighting by using directional spotlights.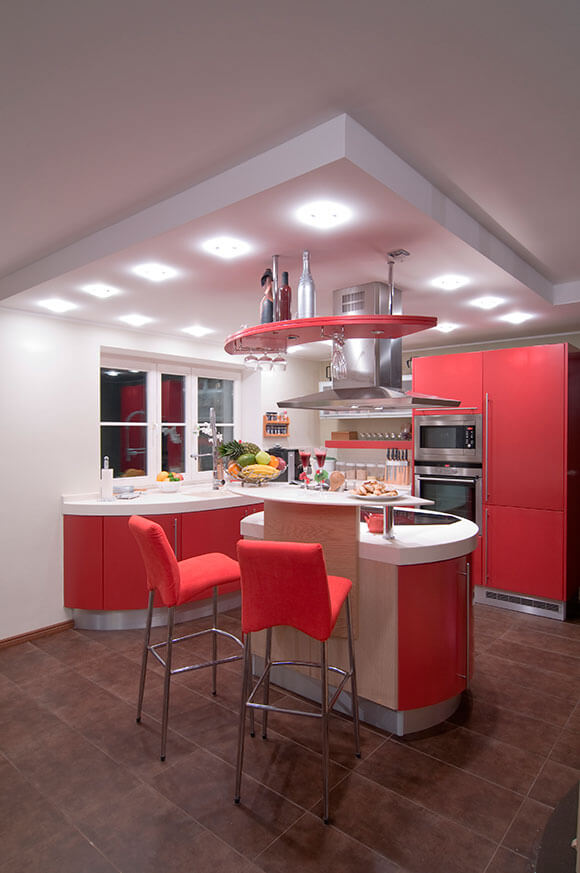 33. Under counter Refrigerator
Every kitchen needs a refrigerator. Instead of going for a large size refrigerator, under counter Refrigerators can be the best space saving devices. Instead of putting a regular large size refrigerators in the kitchen that take up a lots of space, an under counter refrigerator can be used to add style, sophistication and convenience to the kitchen. These refrigerators can be ideally installed in a standard cabinet space under the kitchen counters and without any space wastage we can utilize the area above it as a countertop shelf.
When purchasing the refrigerator one has to keep in mind about the size of cabinetry where it's going to be fitted as these sizes vary across in every kitchen. Another practical approach can also be to buy a refrigerator that matches with your kitchen colour scheme and then place it under the counters or in designated slots made especially when the kitchen design was made.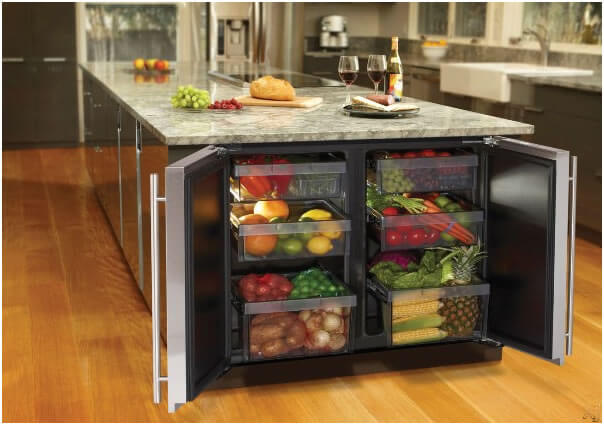 34. Smart Cutting Table and Garbage Basket
Kitchen organization is vital when we have a small kitchen space. The kitchen needs to be well functioning and productive. We cannot totally concentrate on the aesthetics of the kitchen and keep in mind that functionality is equally important. Pull out baskets and organizers are a great way to save space and to keep everything in their proper place.
A slide out cutting table can be drawn out from the kitchen cabinetry system. It is made of special material that is used in kitchen cutting boards to provide the best cutting experience. The pull out cutting table has a hole for throwing away peels and other throw able material during the cutting process. Just under the pull out cutting table there is another pull out drawer for the basket, which sits inside that drawer, to catch the garbage thrown from the board. This easily removable basket is lined with garbage bags to remove garbage when required. The garbage bin can also be removed from the drawer and washed when required.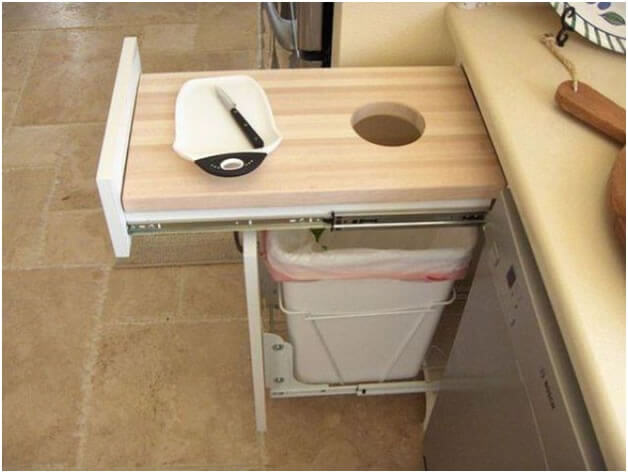 35. Space Saving Kitchen Table
Dining areas takes a special space in every house. One cannot ignore its importance. Small studio apartments do not have space for luxurious dining tables. Sometimes the space is so less that dining areas are given up and the living room sofa and coffee table takes its place.
This pull- out dining table shown below is intelligently built into the kitchen cabinetry thus saving lots amount of space. This dining space can be created instantly when required by pulling out the drawer like structures and can accommodate two people easily to sit down and have dinner.
This is a perfect solution in apartments that do not have enough room for tables and chairs as it can create a small eating space inside the kitchen when needed.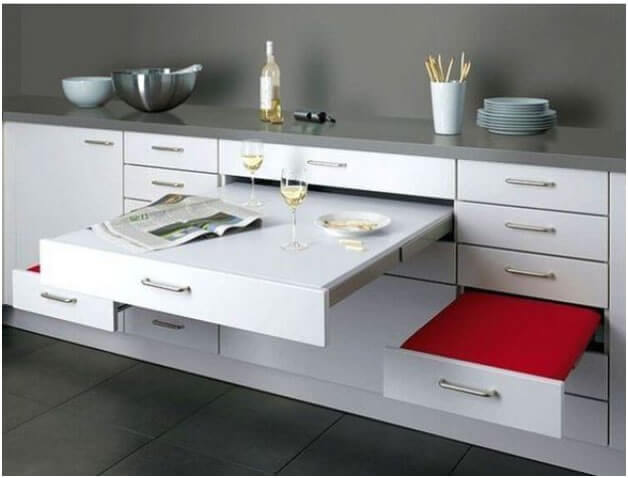 36. Smart Dining Room Options
Every family enjoys a nice thanks giving or Christmas dinner with each other gathered at grandma's house that accommodates a huge dining table with chairs to fit in the whole family. But definitely every one cannot enjoy this luxury due to limited space. Maximize the size of dining table in your living room by placing furniture that can blend in to the already existing space without any visual fragmentation.
Introducing transparent dining tables and chairs are the best solutions to maximize the size of table without the feeling of over cramping of the space. Glass tops and transparent acrylic chairs in a room can create this effect.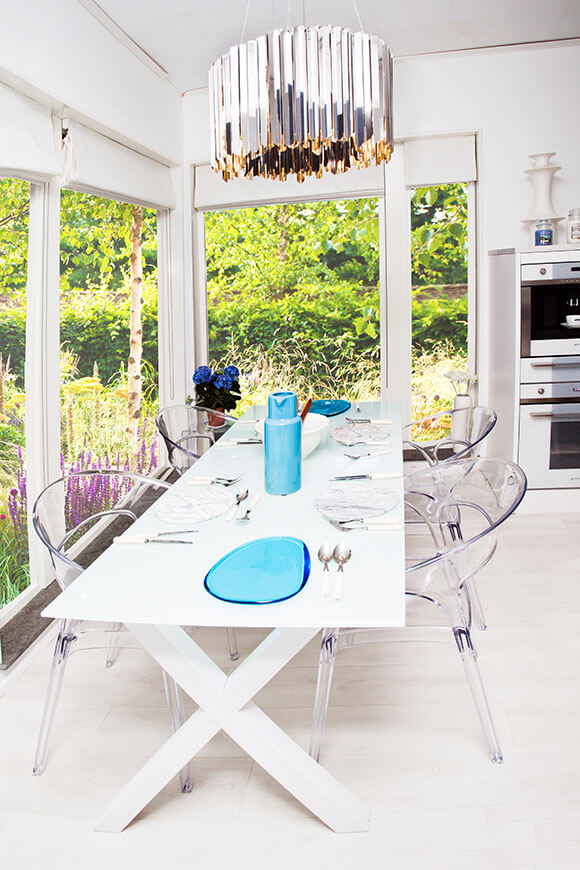 Another way to increase functionality of a dining space is by introducing a slim table in the area with seating that accommodate under the table top and do not occupy much space. Shelves can be incorporated within the support of the dining table to maximize its functionality. With added shelves in the side of the table and perfect counter height one can maximize the advantage of the space in any dining area or kitchen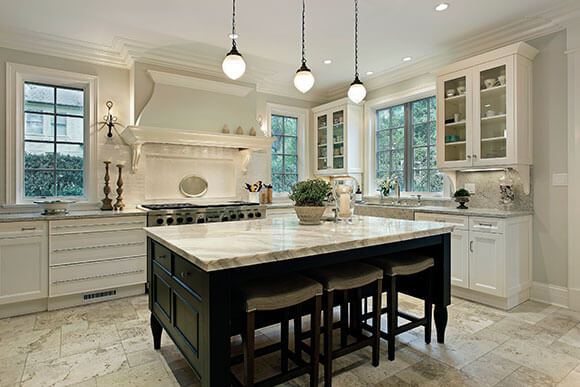 37. Focused Lighting on Dining Table
Whether you live in a space small or large, dining area is one of the most important areas of the house that need your attention. Whether you have a permanent good size dining table or you have some temporary folding setup, lights placement over the table is a very important factor. Light can lift your mood up and make dinner time memorable and grand. Though it totally depends on the architecture of your area, dining tables should generally be placed in the centre of the room under a good fixture of light. Ranging from classy chandeliers to hanging lampshades, the light fixture has to take the central position on the table. A beautiful chandelier with diffused light bulbs can create a beautiful environment in the dining room.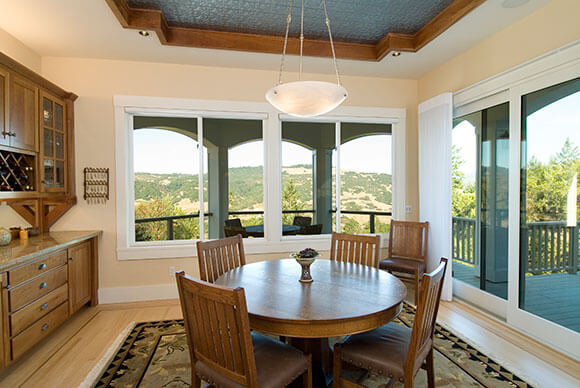 If the light is off-centre or your room is too small for the traditional arrangement, you can place the table against the wall and layout bench seating around it.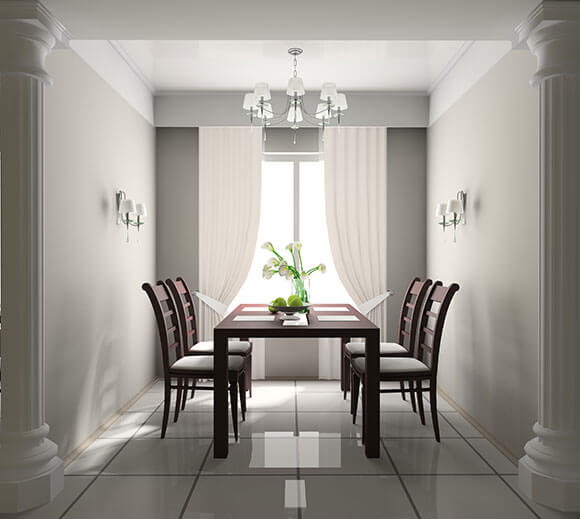 38. Vertical Gardens
Intelligent gardening solutions can now help people living in small studios and apartments to enjoy nature and appreciate it. Wall gardens or Vertical gardens are a great way to add greenery in a small space without using any ground space at all. The main important factor in the creation of vertical wall garden is the direction and quantity of sun light reaching it. Also keep in mind that the wall used should be treated for water proofing to avoid the risk of damage due to the humidity and growth of moss.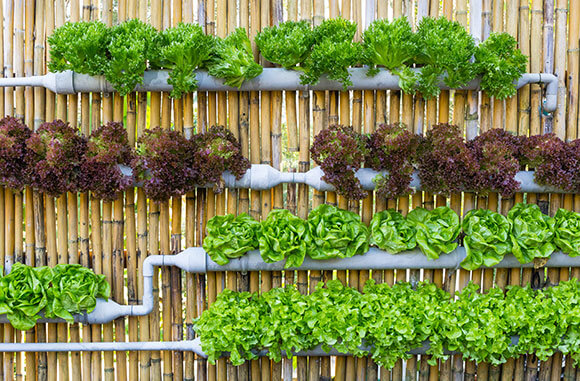 In case you do not have such a wall to create the effect you can mount small plant pots on the wall or fence. A wall garden can also be created in narrow walkways by using gutter or open lines that are used for drainage.