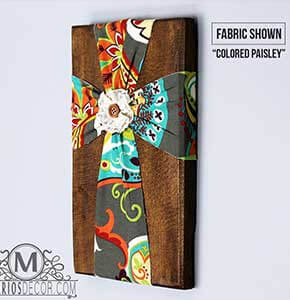 DIY Fabric Wall Cross
Faith is a matter of choice, as is your choice of representing it. I found these beautiful fabric wall cross pieces on the Makarios Decor shop, but I think they're quite easy to replicate at home.
If you haven't figured out by now, the whole point of DIY projects is that you can, and should adapt them to your own preferences and possibilities. Use any type of wood or panels you can find, paint them if you have to, and glue on the fabrics you choose.