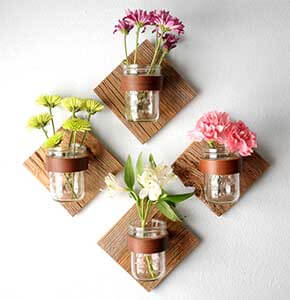 DIY Mason Jar Sconce
Oh, this is such a lovely concept! Adding plants and flowers to your interior decor can really liven up a room, whether you're decorating a hallway, a living room, or bathroom. I love the use of mason jars here, and the flower color choice by Shelterness.
I can even think of ways to make this a more low-maintenance DIY wall art project by adding dried flowers, or by potting spices like basil, thyme, and others, and decorating the kitchen.