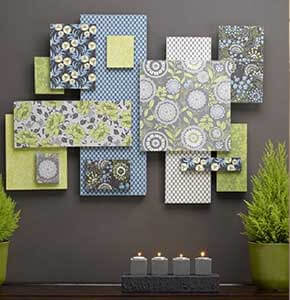 DIY Fabric Wall Art Collection
If you're a fan of lively patterns and colors, you might be excited at the thought of creating something like this fabric wall art. It's big and daring, colorful, and very simple to make! You can find all about the process from Styrofoam Craft, and you can also consider adapting the idea.
Choose fabric patterns and colors you like, and decide on a project scale that suits the space you want to fill. You can even use wrapping paper instead of fabric!