Life is challenging, and sometimes all of us wish we had superheroes to help us. Superheroes represent the goodness in all of us and hope for a better world. They help instill crucial qualities in our children as they watch them save the world.
Giving your kids a superhero-themed bedroom can make their living space fun and remind them of meaningful life lessons.
In this post, we have listed several fantastic ideas to help you create an awesome kid's room with their favourite superheroes.
Le's get started
Superhero Cushions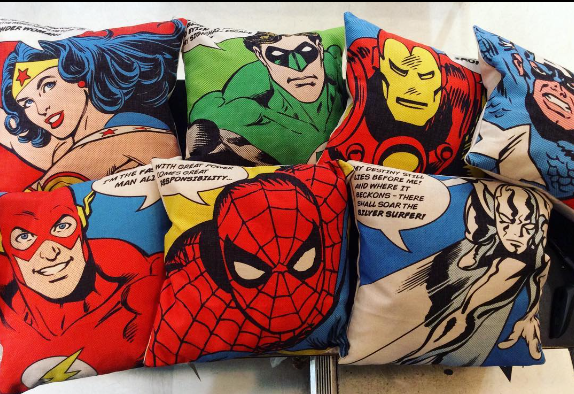 Picture Credit: Instagram/mercurishop
Pillows and cushions are a must for any bedroom and are the perfect place to start your superhero decor. You can grab a bunch of cushions with your kids' favorite superheroes and place them on the bed.
You can even create a photo cushion by getting your child's most beloved superhero printed on it.
You might be tempted to get a lot of cushions but avoid too many as they can become a hazard lying on the floor.
Superhero Blankets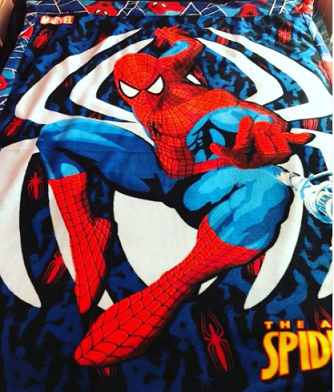 Picture Credit: Amazon
Blankets are a winter essential that everyone needs. Why not opt for superhero blankets that are both practical and groovy. Just find the one that works best with your overall bedroom décor. Getting your child's favourite superhero printed on a photo blanket is a fantastic idea.
Superhero Capes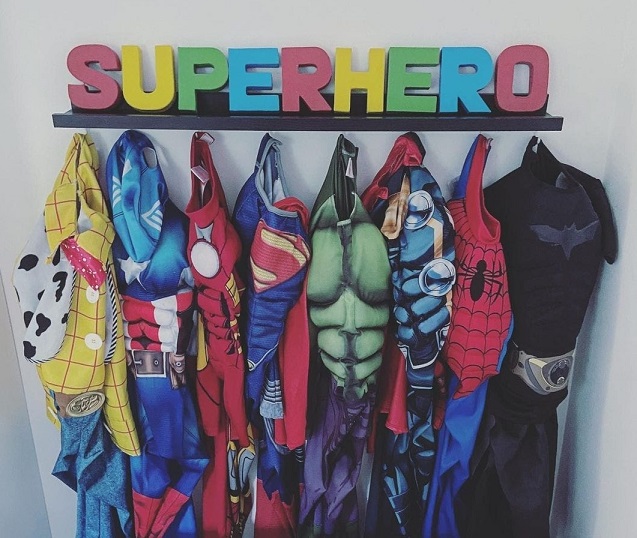 Picture Credit: Instagram/at_home_with_amy_and_h
You don't see many superheroes without their capes. Hanging the capes in a kid's bedroom can make them feel fantastic and add to the décor. They're perfect for a superhero-themed bedroom.
Superhero Canvas Prints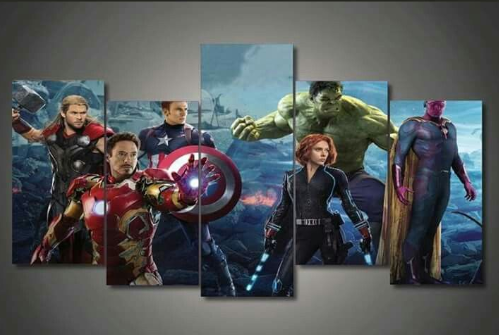 Picture Credit: Pinterest/Riette Pretorius
Canvas photo prints are one of the best décor options for your child's room. They come in different shapes and sizes, are durable and inexpensive, and you can print anything on them.
These qualities make them an ideal option for your kids' bedroom. Nothing offers more flexibility, whether you want superhero portraits or a larger image on split canvases.
Superhero Wall Display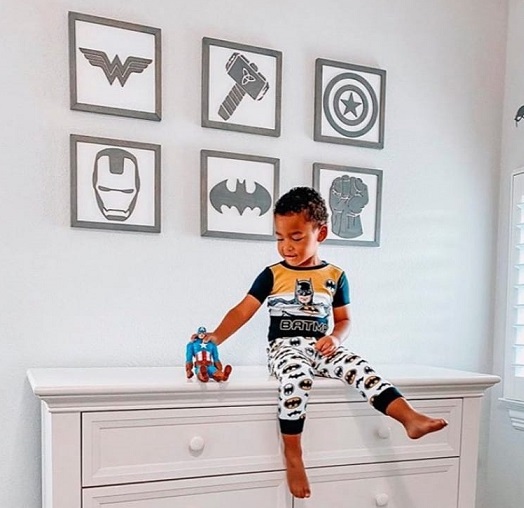 Picture Credit: Instagram/thehandmadesigncompany
A wall display of superhero pictures and logos looks terrific. There is a lot of flexibility with these displays as you can bring your creativity to use. Whether you want to put coloured images or opt for monochrome sketches, it is entirely up to you.
Superheroes Wallpaper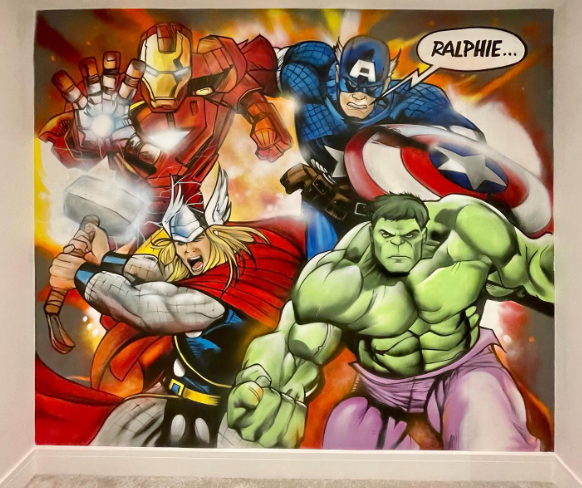 Picture Credit: Instagram/gnashermurals
Good quality wallpapers are an excellent solution to make the walls look good. A marvel wallpaper in a boy's room will look just out of this world. Pick one with his favourite good guys and help him feel like a superhero.
Ensure that you do not go overboard with the wallpapers. Putting them on every wall seems fun, but one large wallpaper would usually be sufficient.
Superhero Bed Set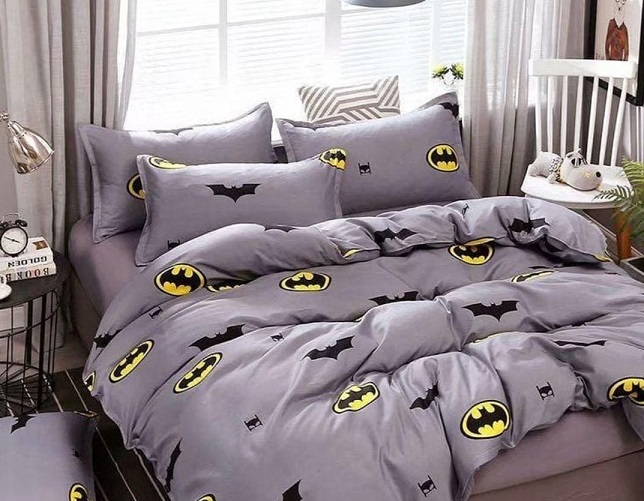 Picture Credit: Instagram/bedcoverstore.id
Do your kids love Batman? Or are they good ol' fashioned superman fans? In either case, you can excite them with a superhero bed set with pillows, bed sheets, and a comforter.
Personalized Superhero Mugs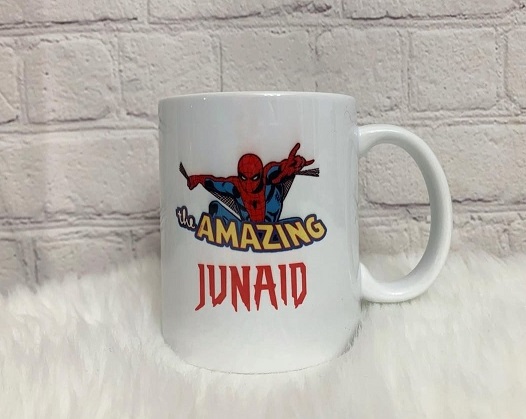 Picture Credit: Instagram/preciousmemoriesco
Personalized photo mugs are pretty common and serve as an ideal gift for various occasions.
Many people create a collection of their favourite mugs and put them on display. You can apply the same idea to your kids' room.  These mugs can serve as a source of inspiration for the kids and help boost their confidence.
Superhero Lamps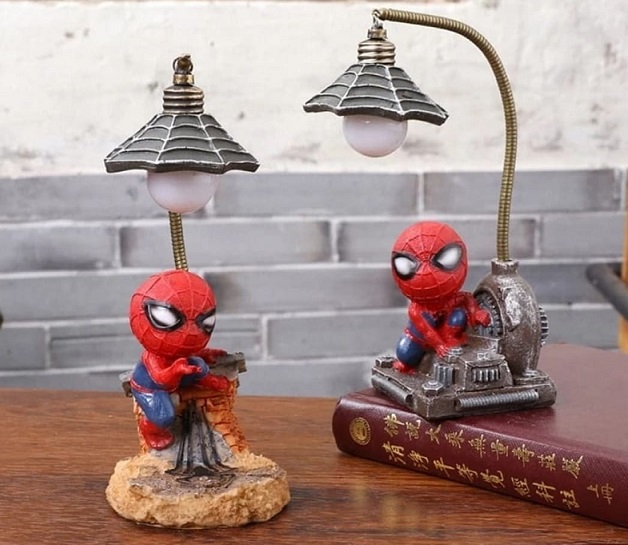 Picture Credit: Instagram/grandmas_gift_shop
Lamps are used both for decorative and practical purposes in a bedroom. Superhero lamps work well and will add to the décor of your kid's room. There are many options to choose from, and you get them in various sizes and colours.
You must pick lamps that go with the overall theme. Sometimes an otherwise great lamp may look out of place due to other decorative items.
Superhero Props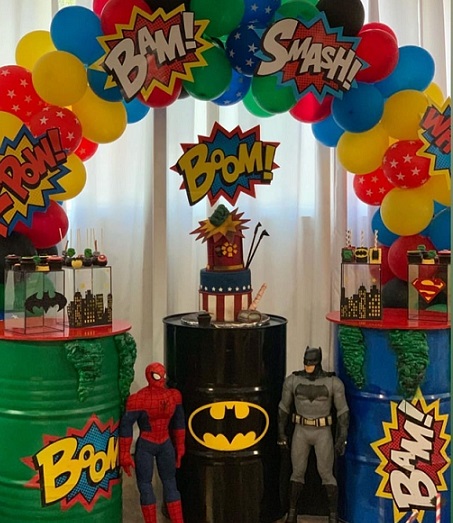 Picture Credit: Instagram/platinumprophouse
Superhero props are often sought after by collectors around the globe. Adding them to your kids' bedroom will add value to the décor and may encourage them to indulge in their own collections.
Superhero Wall Décor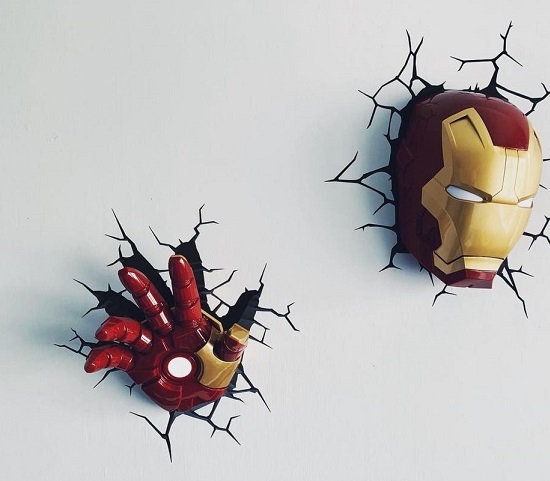 Picture Credit: Instagram/andyjh85
Bland walls are an absolute joy killer. You can fix this by adding anything associated with superheroes. Whether it's an iron mask and fist, small props from Batman, or something similar, they can light up your wall.
Carefully select what decorative items to put on the wall to ensure they look good and fit in well with the rest of the décor.
Superhero Pins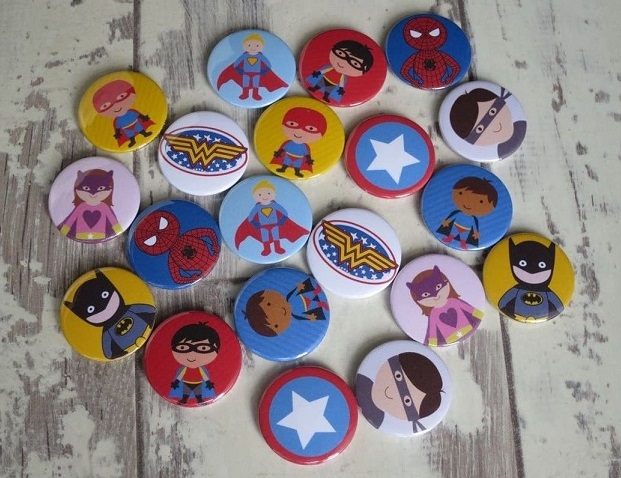 Picture Credit: Instagram/koolbadges
Many people like to collect pins. They can make a pretty excellent décor option for a superhero-themed bedroom. You can pin them to a fabric and hang them on a wall.
Superhero Posters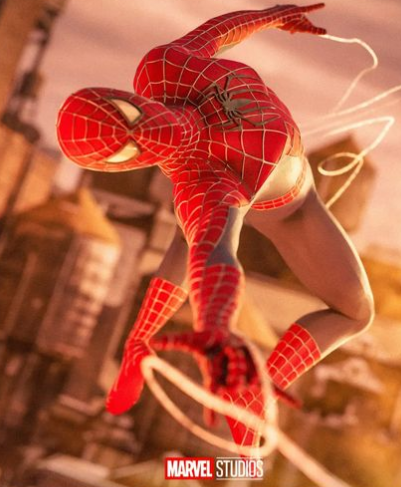 Picture Credit: Instagram/pvilly_artist
When it comes to the ultimate collectors' items, movie posters are among the top. If you have a superhero movie poster in your kids' bedroom, it makes for a fantastic decorative item. It will not only look good but also show your good taste.
Superhero Murals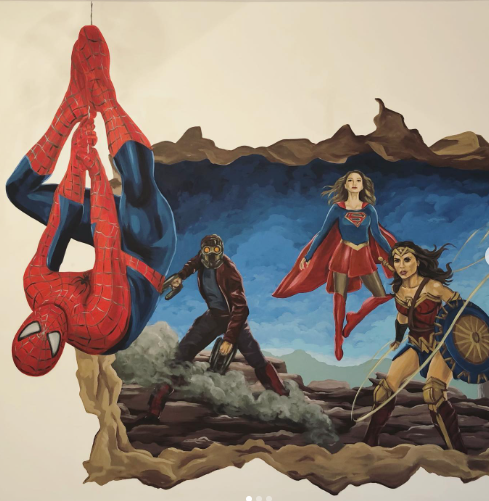 Picture Credit: Instagram/jjmurals
Murals are a fun DIY activity. A superhero mural looks terrific anywhere. It would be best to paint it with your family over a weekend. It is a challenging task, and you need some skills with the brush to get the desired outcome. However, they look out of the world once completed.
If you're not very gifted with the paintbrush, you should hire a pro. You and your kids can still help and be a part of the project.
Superhero Cabinets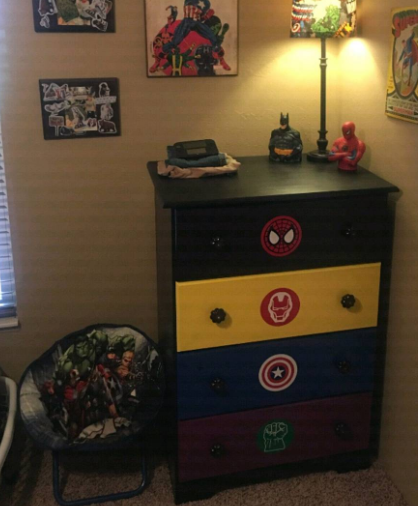 Picture Credit: Instagram/toinfinityandstickon
Every bedroom quite literally has some cabinets to store daily essentials. You can customize the cabinets with superhero characters and logos. It is an excellent idea for another DIY project. You can use your creativity and get some fantastic results.
Superhero Masks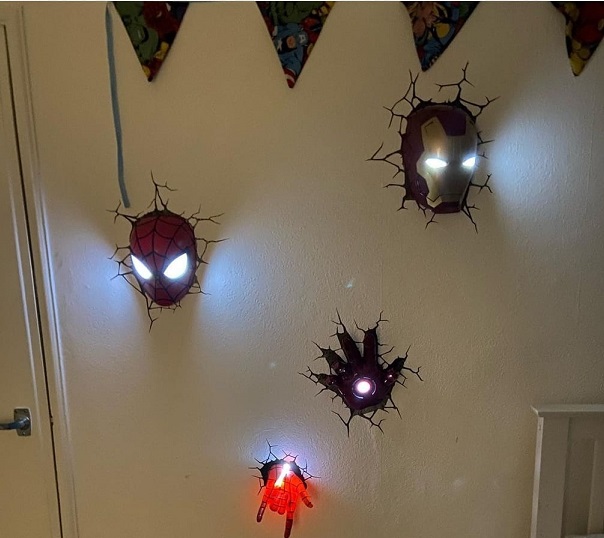 Picture Credit: Instagram/muguidetohomemade
Concealing the identity is an essential part of a superhero persona. You can also use these face masks to eliminate empty parts of the bedroom. They also make the décor look better, so you kill two birds with one stone.
Superhero Lampshade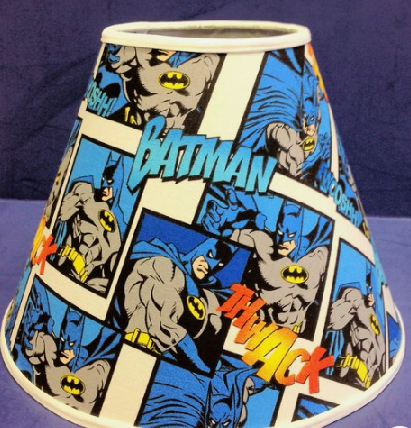 Picture Credit: eBay/justyourshade
You can get unique superhero lamps and even turn standard lamps into superhero ones.
The second option is cheaper -  All you need is to buy superhero lamp shades. Why not use your kid's old lamp and upscale it with a superhero lamp shade?  You can get some outstanding deals from Amazon and eBay.
Superhero Desk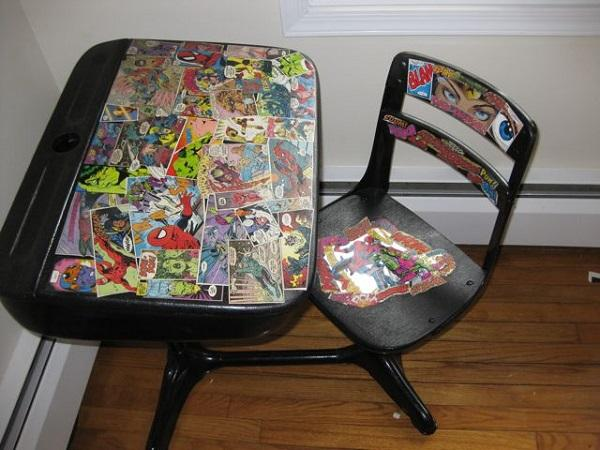 Picture Credit: Cudded.com
Kids need to do their homework and read books.
You can make these activities fun with a superhero chair and table. You can buy them from a crafts store or upscale the existing ones by adding comic strips and perhaps adding a glass top on the desk with superhero stickers.
Superhero Curtains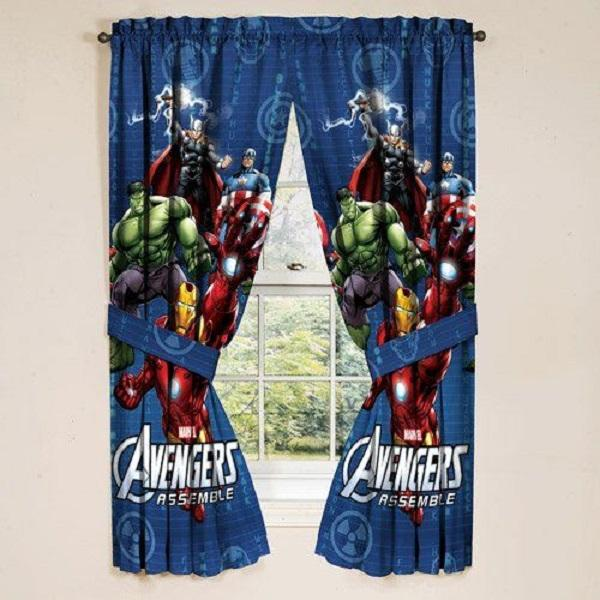 Image Credit: Cudded.com
Curtains are an essential part of any bedroom for obvious reasons. They are a big part and often overlooked part of the décor. Superhero curtains can do the trick and lift the space.
Superhero Light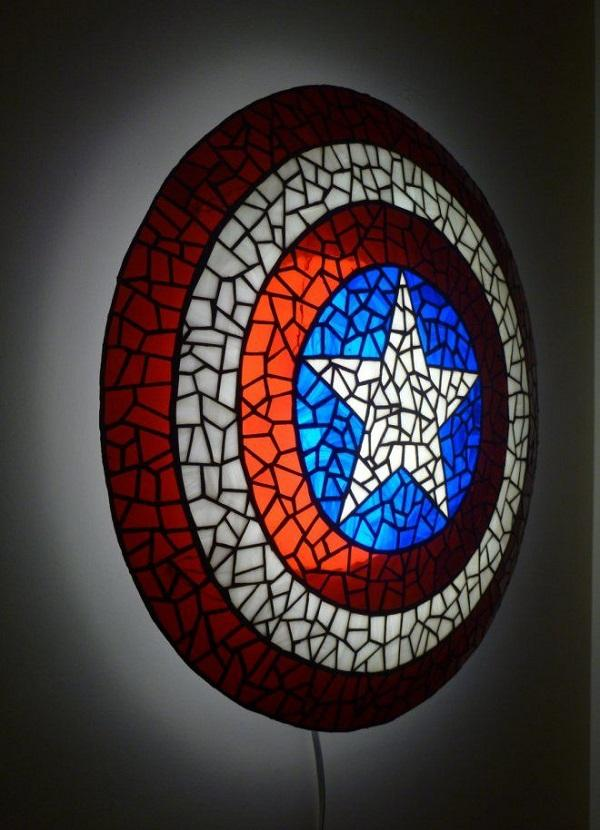 Picture Credit: Cudded.com
Last but certainly not least, you can put a superhero light in the bedroom. You can get some supplies from a craft store and convert an ordinary light into a superhero special.
The Bottom Line
There are so many superhero bedroom ideas that you can incorporate into your décor. Your kids will love it, and their rooms will look amazing.
Most of these items are readily available in stores or online. You can also order customized products like canvas prints and decals. Why not benefit from your creativity and make some of these items yourself or upscale existing ones.
But remember, as a parent, you're the real-life superhero your kids love and adore. Be the best role model and help them become exemplary citizens.