Create a Grid of Canvas Gallery Prints
Create a photo grid with square shaped gallery canvas prints. These grids are exciting ways to display images and can also be used to display a story. You can make a grid of same type of images on canvas or you can also put the images in a grid to tell a story of the day.
Idea: Wedding Events Displayed in a Canvas Grid:
A wedding day's events and happenings captured in images by a top photographer can be displayed in a photo on canvas gallery print and displayed in form of a grid.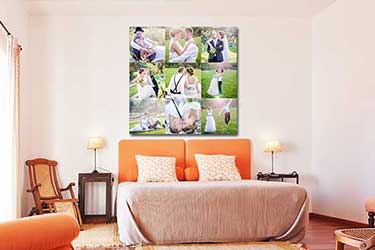 Idea: Mix Black and White Photographs with Colorful Canvases in a Grid:
Create a photo grid of your photographs on canvas gallery prints along with colorful images and paintings. A more interesting form of this idea would be to create a grid or black and white photographs as canvas gallery prints along with plain single color canvas gallery prints to create very interesting grid on the wall.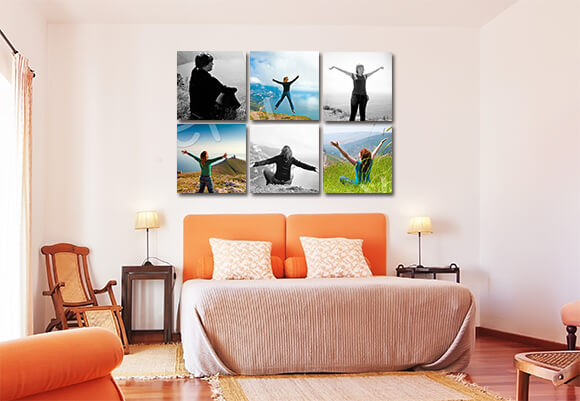 Create a Canvas Wall with Photo Collage on Canvas
Photo collages are exciting and fun to look at. You can merge many different images on one single big sized canvas and create an interesting photo collage. You can use many ideas while making a collage.
Idea: Create a Collage of your Kids Photographs:
You can make a collage of photos of all your kids on a canvas gallery print and place it on the main wall of your living room.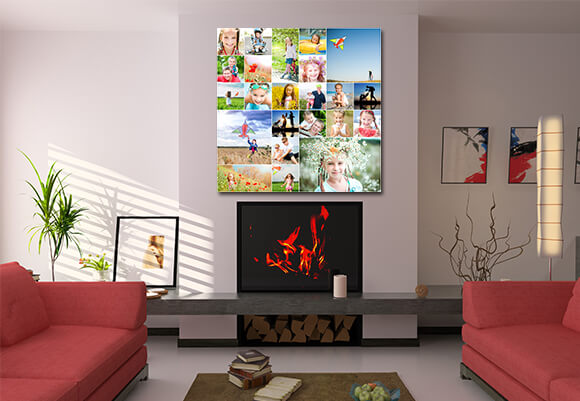 Idea: Create a Collage of Special Events in Life
You can also make a collage of images from a specific event and get it on a canvas gallery print and either gift it to someone important or place it somewhere on your wall to see and relive that moment.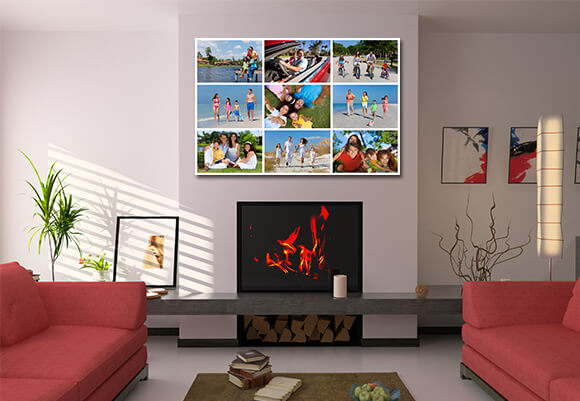 Idea: Collage of Inspirations for your Workspace:
Create a collage of the places you want to visit, your inspirations, favorite motivational quotes etc. and have them all printed on a canvas gallery print to place in your work area or somewhere you work so that you can feel motivated anytime you take a look at it.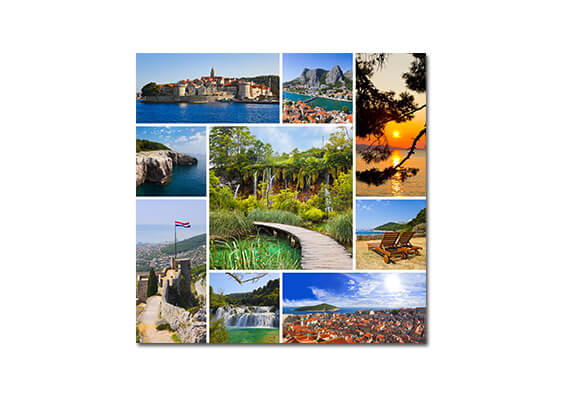 Display above the fireplace
Fireplaces are generally the focus of any room. Placing a beautiful or evergreen piece of art or a valuable photograph can increase the value of this focus.
Idea: Classy Mosaic for your Fireplace
Imagine a large rustic fireplace front on top of which there a large mosaic canvas print or a beautiful painting printed onto a canvas gallery print. It would look amazingly beautiful.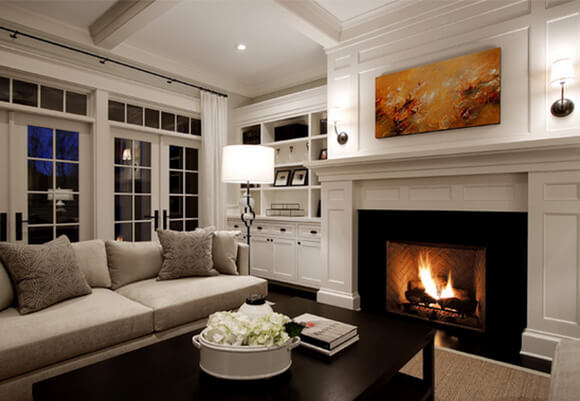 Idea: Black and White is Evergreen for a Classic Feel
You can also get your wedding photograph printed in Black and White converted into a canvas gallery print and placed over a fireplace to bring an old classic feel to the interior.
Idea: Canvas Gallery Print in a Metallic Frame
You can also put the canvas gallery image inside a beautiful frame that matches the feel and look of the fireplace and room. For example, place it inside a metallic or silver frame if the room has metallic or silver accents.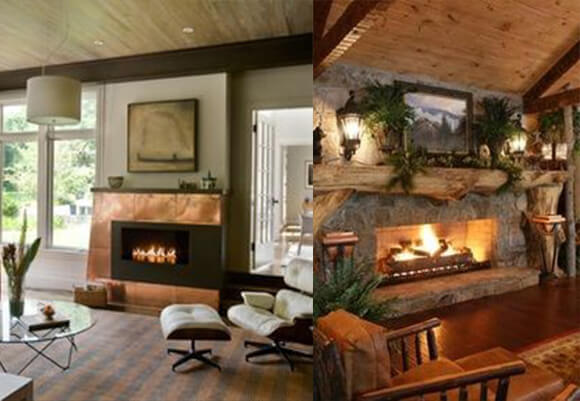 Canvas as Centre of Focus
Creating a focus in your interior is one of the most important aspects of an interior decor. You can create focus by playing with many things in your interior. A beautiful and interesting image printed on a huge canvas can form a focus or point of attention inside a room if placed intelligently and according to the rules of the interior decoration. You can even design or place other pieces around it in such a way that it remains the focal point.
Idea: Create Focus with Gallery Prints above the Sofa:
Place Canvas Prints with beautiful colors on top of a plain sofa against the wall. Adjust the appropriate height of the prints and make them the focus of your room. With the rest of the room in neutral color, place the canvas gallery prints in vibrant color on the wall. This prints will form the immediate focus when you look at the room. You can now arrange small things and accessories around the room which had color like the canvas to balance the overall setting.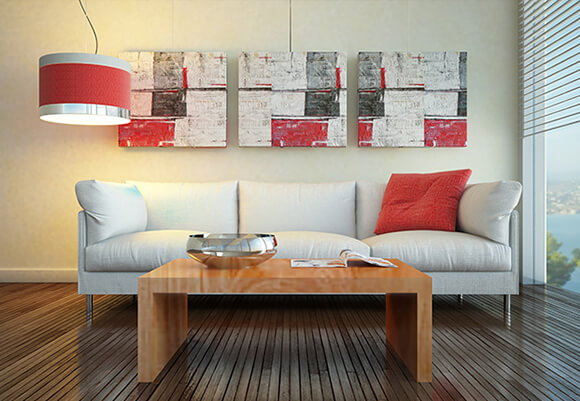 Idea: Create Focus with Bright Colored Fruits and Food in your Restaurant Decor:
Create a look of your restaurant or eating area by placing the main focus on mouthwatering images of food. You can do this by keeping the other elements of interior less inviting in fact they should be such that they should draw your attention towards the food images on the walls. These images can help you increase the appetite of customers who will definitely order the food they are able to see as solid products on the canvases.
Human psychology studies show that people are liable to order the food more easily or most of the times they order the things only when they can visually see the end product through images. So enjoy more customers and chances of earning more :)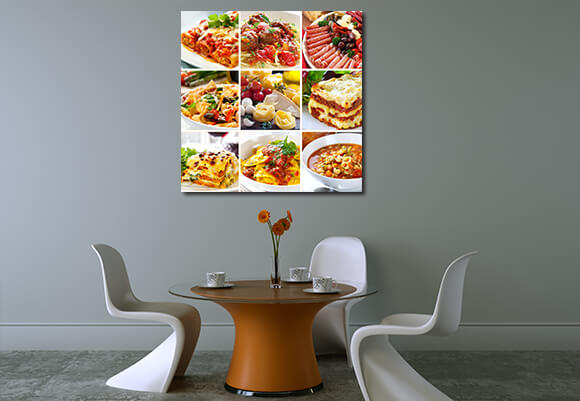 Gallery Prints on Shelves
Place small gallery prints across the shelves in your room along with the books and other things.
Idea: Place Gallery Prints on Shelves along with Candles and Figurines to make it Interesting:
These prints can hold sayings that inspire you or can be small colored images to make your interior more interesting. Small figurines and candles placed along the canvas prints and other things on the shelves can create interesting visuals.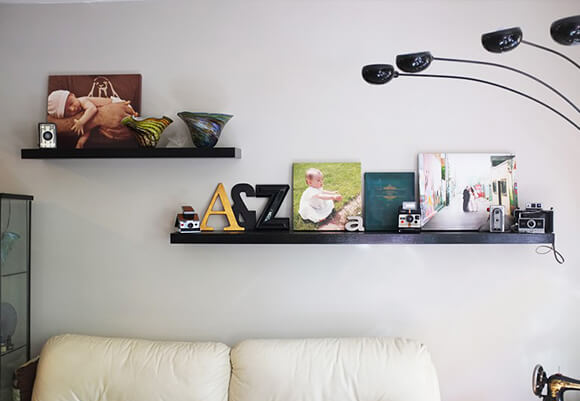 Idea: Place Gallery Canvas Prints in cubby shelves:
You can also place small canvas gallery prints inside the cubbies along with other things you need to store. Sometimes these canvas prints are placed just in front of the back wall of the cubbies wall to create great contrasts with the cubby walls or things placed in the cubbies.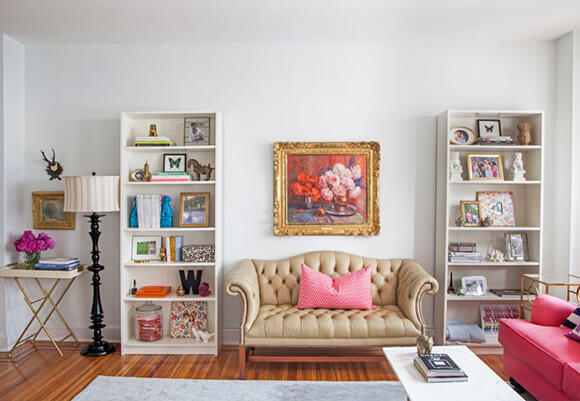 Create a Canvas Print Room Wall Border
Wall Borders can be made interesting with the help of Gallery Canvas Prints. You can create a border by placing the prints across the outer edges on the wall from all the sides of the wall. A more interesting way is to occupy the space near the point where the wall meets the ceiling (the upper most border of the wall) and place the images all across the room like this.
Idea: Canvas Wall Border to give Room some Height:
Placing the images high above the eye level will help a small room or nursery look bigger as this can draw our eyes upwards towards it thus giving the room a more spacious feel as compared to putting all the images at the eye level around the room.
Idea: Form an Image Border with Photographs of your One Year Old for His Nursery:
An interesting idea can be for a baby nursery. During the first year for the baby you can get a photograph of the baby every month, get it printed onto canvas and put all the canvas gallery prints bordering the ceiling of the room.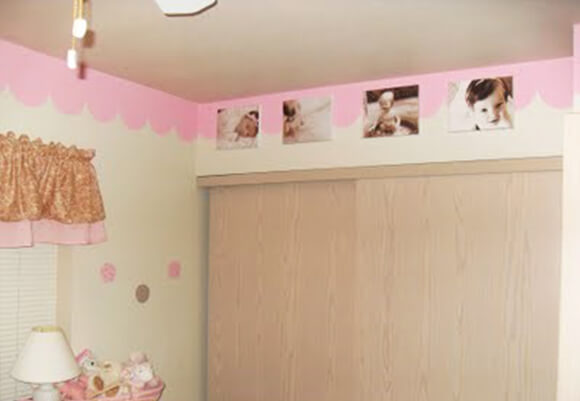 Idea: Create Canvas Door or Window Border:
Placing a smaller set of portraits bordering the door or window can also look great.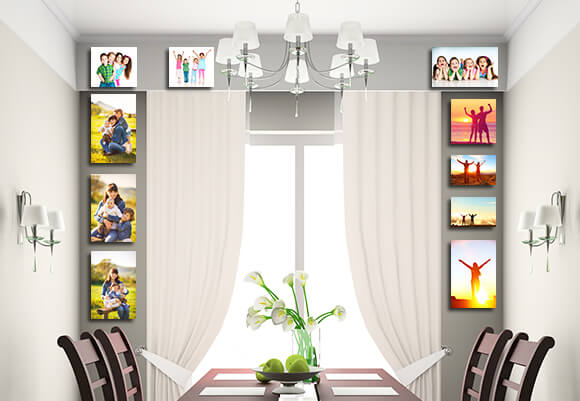 Balancing multiple style canvas gallery prints on a Wall
At the end it's all about creating balance and harmony. Same size canvases can be easy placed in grid with simple tools like a distance measuring instrument and an instrument to measure balance. If you have these two, you can easily set the images in a geometric pattern. In case you want to combine images of different sizes on a wall you can do that in two ways:
1) Set a geometric pattern
2) Create the Balance
Setting a geometric pattern can easily be achieved by doing some mathematics. For example, if you want to place the photographs of different sizes on a canvas gallery print you can simply do the measurement and make a plan on paper with the right math and you can be a success.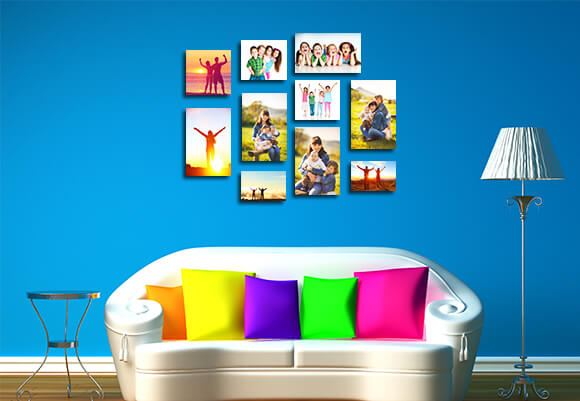 Idea: Mix canvases of varying sizes with wedding photographs on canvas gallery Prints:
Keep the photographs with the bride and groom together on large canvas prints of same size. Arrange the smaller canvas Gallery prints with individual portraits and even smaller ones with group photos.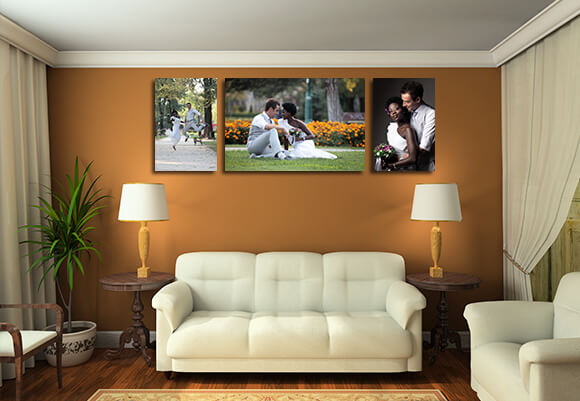 2) Create the Balance
To create a balance you just want to create balance of images and are not concerned with the math. You can easily do it by estimating the overall area of the wall and then creating a visual area on the floor. After that start placing the canvas in that area on clear floor and balance. Your eye is the best natural balancer. Arrange the images in the area on the floor in the most interesting way. Once you are satisfied start putting them on the wall according to the same pattern as on the floor. The bottom line is that it should look good at the end. Best of luck. …
Idea: Gather Ideas/Images on Canvas of Different Sizes to Create Harmony
Ideas Arrange photographs. Arrange family photographs printed on gallery style canvas frame and arrange as you like or gather together different scenes and art works and put them together in a sequence that creates harmony and blends in with the environment and looks beautiful.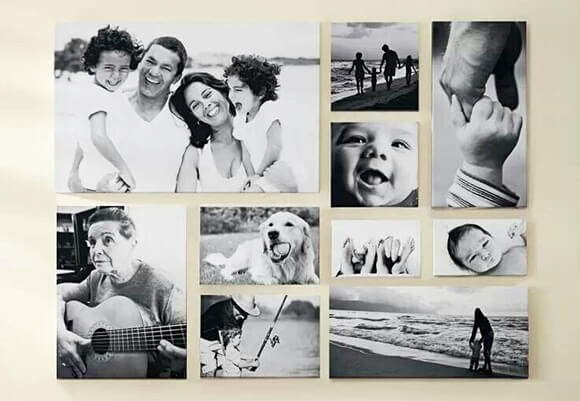 Wall Display with Quotations
An excellent way to express how you feel is to place quotations that mean to you in accordance with the photographs or images displayed on the canvas.
Idea: Arrange Family Portraits with Quotes of Togetherness and family Bonding's:
One idea can be to get individual portraits of your family member and one group photo also. Now place this group photo converted into a canvas gallery print in the center and place the other family portraits on its sides and on top of this all you can add wall decal or sticker with your favorite quote about family, togetherness and love.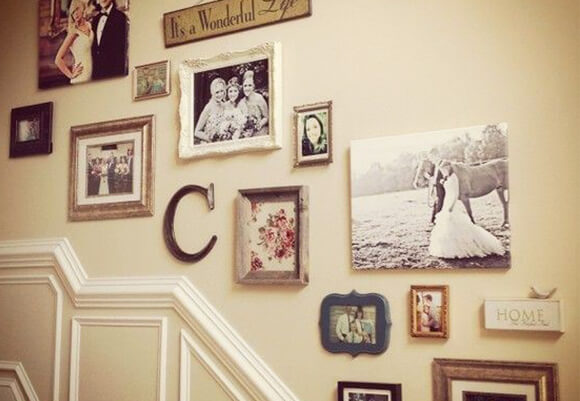 Idea: Quote of Love with your Wedding Photograph to Impress your Partner:
You can also surprise your partner by placing a canvas gallery print of your wedding photograph or your best photograph together and write a quote of love by its side. It's a great tip ;)… you will thank me for this one :)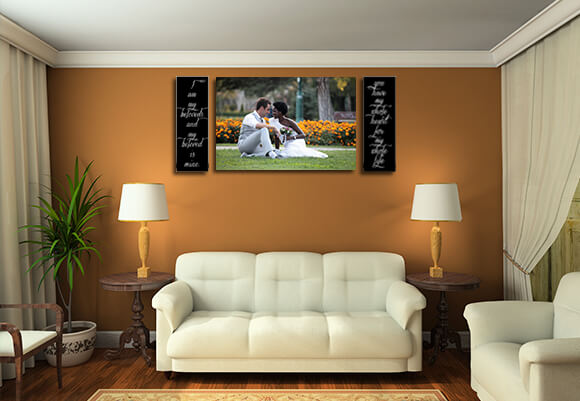 Tell a Story
Everybody loves listening to stories. Especially if these stories are from people they love. Now you can tell stories through canvases and make everyone happy. All you have to do is to gather all the images and materials related to the story and then get it transformed into a canvas gallery print. Now arrange these prints sequentially on the wall one after the other to create a visual story.
Idea: Document your 50 Year Story on Canvas:
You can document/ display 50 years of your wedding life with these photo canvases in a gallery wrap. The key is to get all of the certificates, documents, images printed onto the canvas in the same gallery wrap to create harmony. Start with your photographs on canvas from birth to school life, canvas prints of certificates and achievements, images of college and university life, important events during this time captured on canvas, fun photos with friends, the years of love and marriage, your kids, your achievement documents of professional life etc. etc. all of this should be like a series of events as they happened in your life. This will be great asset for people who love you. You can even start the same series of documenting your children lives and events as they pass by on the same canvas gallery prints. Who knows maybe one day these long lasting prints can become a part of history and source of joy for your great grandchildren :)
Idea: Propose Her with Moments of Love Captured on Canvas Prints and Arranges as it telling a Story:
You can even surprise her by capturing all the fun and moments of life you spent together and make a series of these prints to tell a story of your developing relationship over these years. This might act as a trigger to say 'Yes' when you will be down on your knees to propose her.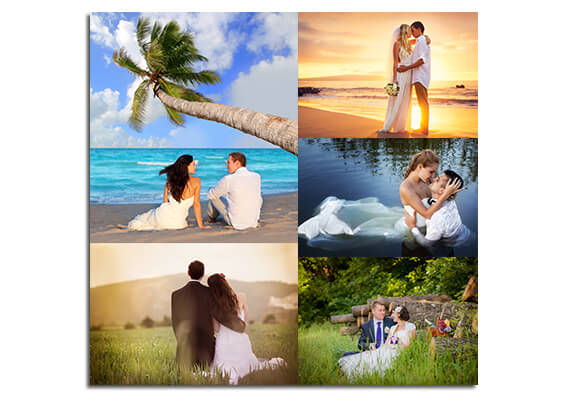 Create Interesting Display for kids
You can create interesting display for kid's walls by creating a photo train.
Idea: DIY Photo Train:
You can easily DIY this project. Get your kids portraits on canvas gallery prints. You can set the size as you want.
Like bigger prints for a bigger train and more wall space and smaller gallery prints for a smaller wall space.
For this project you need:
1. Canvas Gallery Prints of your kids portraits
2. drawing equipment
3. paints and brush for the wall
4. Rulers for straight perfect lines and measurements, I would prefer it for measurements but for lines I would rather keep it free hand.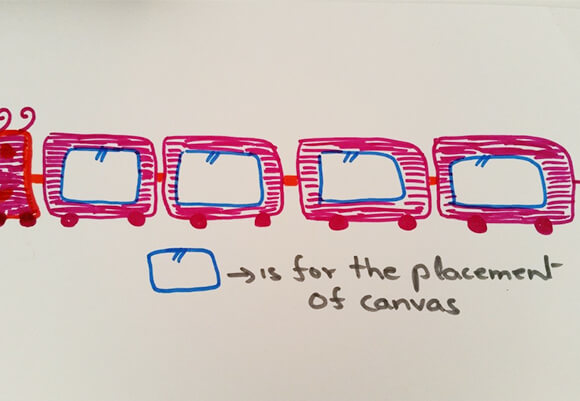 1. finalize the location for the train
2. Make the train boxes or compartments by: measure the frame size, draw train compartments or square boxes on the wall that are at least 2 to 4 inches larger than the canvas size, for bigger wall area and print you can adjust accordingly. Make these boxes a little apart from each other and connect them through connecting lines.
3. Fill these boxes on the wall in a color of your choice and do it neatly by surrounding the outer areas of the box with masking tape.
4. Apply paint to the connecting lines.
5. You can also add a little fun to this train by adding the wheels to the bottom and maybe you can add an extra box at the beginning of the train to make eyes of the train to make it a little more interesting. You can also watch Thomas the Train for more idea.
After you are done, the paint is dry and train is complete, mark the positions for the canvases in each box in such a way that they take the central position in all the boxes.
Idea: Kids Creation Wall:
Motivate your kids and make them feel special by converting their hand drawings into canvas gallery prints. You can then make a wall of kid's creations with these images. You can also add in a few cartoons of your kid's choice printed on canvas within this collection.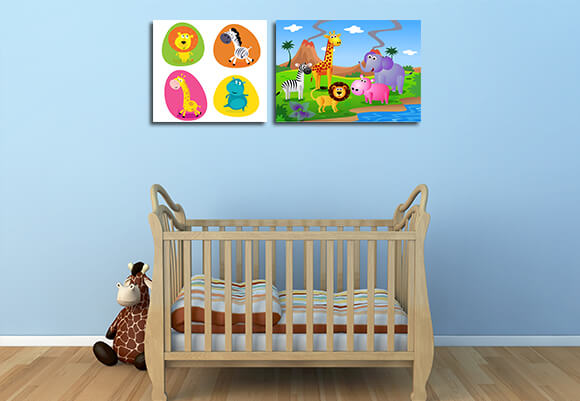 Idea: for teenagers you can create a wall with canvas images that interest them. E.g. cars for young boys. You can also write quotes that can motivate them to stay focused on their goals.
Frame the Canvas Gallery Image
For a more sophisticated and classy looking interior you can put your canvas gallery print image inside a frame. If the room is not very contemporary and a simple canvas gallery print does not add to the room or looks against the theme of the room, then you can simply place that print inside a grand frame.
Idea: Canvas Gallery Image in Victorian Frame to Match the Look:
A frame with curves and textures to match your Victorian style furniture.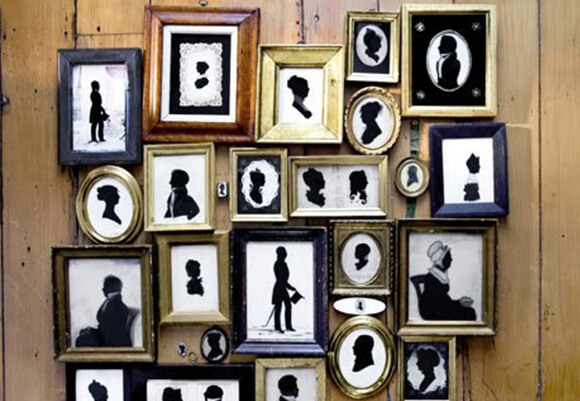 Idea: Match the Frame with the Look of the Room:
Or a metallic heavy frame to match the rustic look of your room. Or a frilly floral frame or a frame made of cane to complete the country look.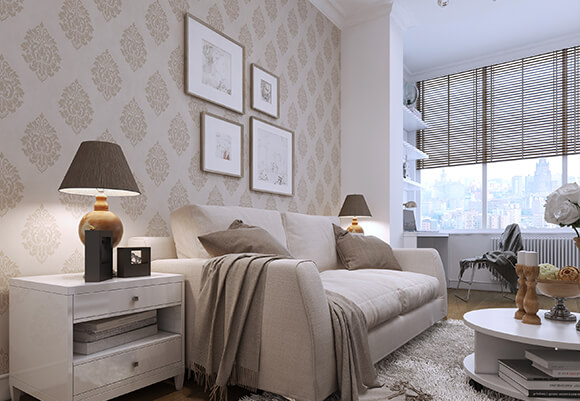 Placing Along the Stairs
Placing canvas gallery print in descending positions on the wall by the stair side is an exciting way of displaying the canvasses. This can give the effect of an art gallery built along the stairs.
Idea: Arrange Portraits of Family in Order:
A fun and exciting way to do this is to place the portraits of your family from the oldest to the youngest at the end of staircase.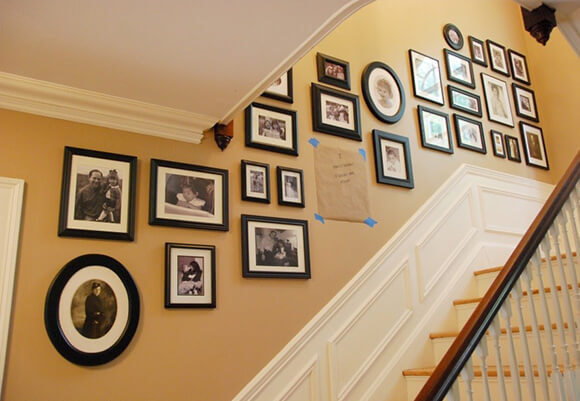 Idea: Art Gallery around the Stairs:
If you are an art lover, you can incorporate this trick by displaying different paintings on canvas gallery prints across the stair case. This trick is specifically useful for houses that do not have a lot of wall area to display these arts.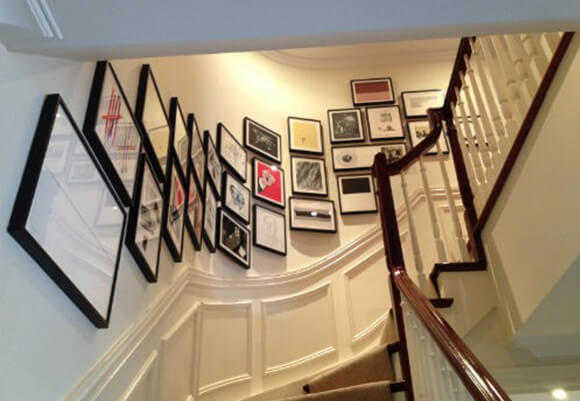 Display your Brand through Canvas Gallery Prints
You can create or order a canvas with your company's name, logo and mission statement printed on the canvas. You can then use it anywhere you need to represent your company.
This canvas can serve as a perfect backdrop for various things like company's official photographs or can also help you a lot to set as background while shooting for YouTube or other social networking sites.