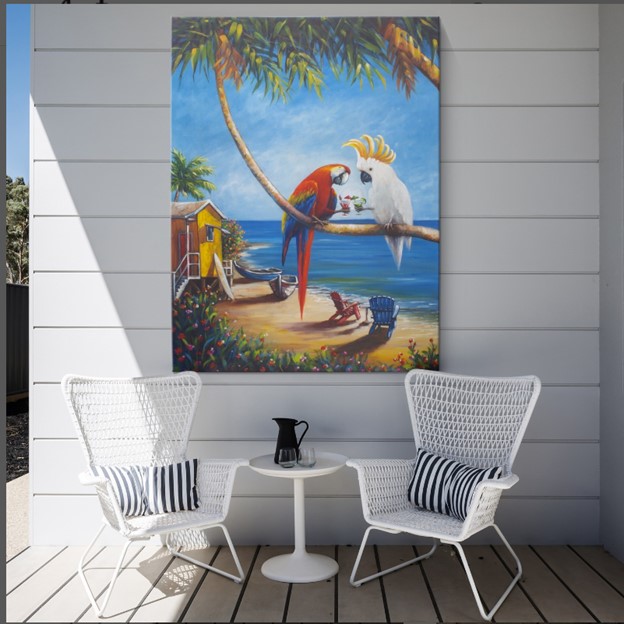 When was the last time you made an effort to beautify the outside area of your home?
Probably not for some time!
Many people focus on how their home looks from the inside but often neglect the outdoor areas. With simple additions and changes, you can enhance your home's external view and make it look more inviting for your visitors.
While there are many ways to achieve the perfect outdoor decor, canvas prints are the most trending element for being innovative and delivering high-quality results. It incorporates a simple process and basic technique to bring your photographs to life while breathing life into your home's bare walls.
In this article, we'll discuss the canvas printing method and what to consider when choosing outdoor canvas prints.
So, buckle up on this journey to transforming your garden, porch, or verandah. The next thing you know, you will be having a busy weekend with renovated spaces in your home for all your guests to admire!
What is Canvas Printing?
Canvas printing is the process of transferring high-quality digital photos on a canvas with the help of an inkjet printer. You can use various pictures for canvas printing and achieve a versatile decor material.
The procedure does not require complicated machinery and can be done easily at home. However, it is ideal to contact a professional canvas printing service in the UK to create perfect canvases with realistic results.
Once inked, the canvas print can be stretched or left unstretched - depending on your preference. But in comparison, the stretched canvases are easy to hang. In contrast, the unstretched or rolled canvases require a frame for mounting on the wall.
The best feature of canvas prints is that they can be customized according to your personal preference and room design.
Canvas Printing for Outdoor Setups
Many people wonder whether displaying canvas prints in their outdoor setting is a good choice. Most home decor experts agree that it is a great option to revamp the way your garden and outdoors look.
Let's talk about some exciting ways to enjoy outdoor canvas prints around your home.
Deck Area Decor
The deck area is a popular spot where most people hang out with guests or alone. You can add outdoor canvas prints in this semi-shaded area to add some coziness to its atmosphere. You may opt to create a corner with canvases and plants for a more natural touch.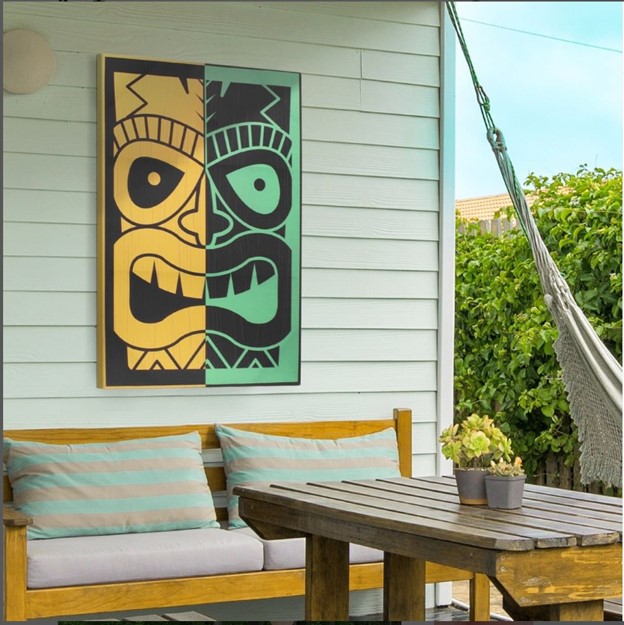 Another great idea to decorate your deck area is hanging little canvas printings of plants, flowers, and animals. We recommend that you avoid using family pictures as you may not want to give some visitors insight into your personal life.
Also, keep the colour combination in mind, as it can make or break your deck's look. For instance, if you use lots of bright and colourful plants, choose a print with minimal hues to stand out rather than blend in.
This snuggly yet attractive setup will encourage you to spend more time outside in the fresh air promoting many health benefits. Plus, it looks really inviting and gives your guests a warm welcome.
Accessorizing Your Garage
Another great way to decorate your space with outdoor canvas printing is in the garage. If your garage is visible to visitors of your home, consider adding splashes of design their way.
We recommend using minimalistic pictures, metal prints, or abstract prints of cars. But avoid going over the top or disturb the vibe of your garage. Monochromatic colour combinations also work wonders if your garage has a metallic theme.
If you are a fan of a variety of colours, try painting your shed with hues that look bright and popping. You can also hang colourful prints on the walls visible from your garage.
Welcome Sign for Guests
Sometimes, it can be a little boring to return home and get greeted by the plain old boring door. Your guests may have the same opinion about your home as well. Instead of focusing on just the interior, add a little piece of art like an outdoor canvas print that makes people feel welcome and greeted at your home.
Now, this is where you can get all colourful and bright. Frame some home-related quotes through canvas printing using bright and decorative fonts. You can use different software for image design to create a personalized quote for your home and get the photos on canvas by hiring a professional company.
This little effort makes your home stand out in the neighborhood. Since most front doors do not have dedicated shade and weather protection, we recommend waterproofing your canvas before hanging it up.
Avoid putting the canvas too close to the ground. Also, we recommend using just one canvas, so the place doesn't look confusing, clunky, and overburdened with art. A simple pattern on canvas hanging on the door with plants on the sides looks super attractive.
Restyle Your Outdoor Porch
An outdoor porch is like an additional room in the house that people use to sit, relax and unwind after a tiring day. Some people may even use it as a home-based office or a barbecue center. In fact, it's just a matter of personal preference about how you use the porch area.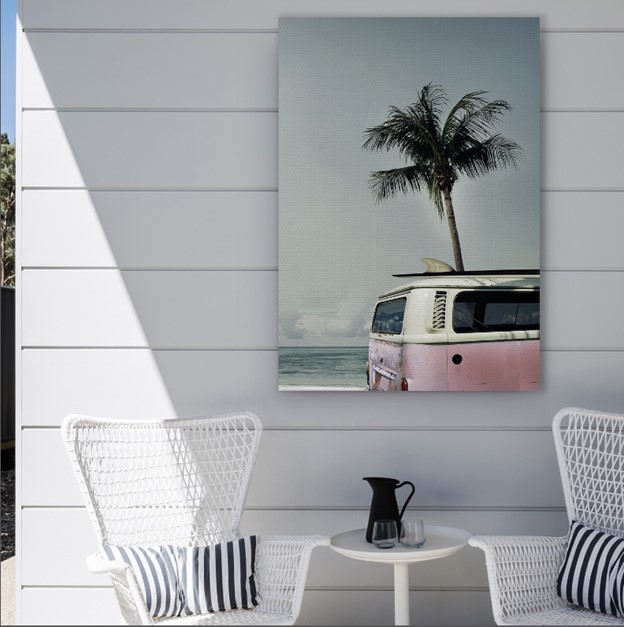 If you already have the porch area furnished, it's time to add digital art with your creative touch. This part of the house is considered private, so you can add anything from natural pictures to family portraits. For instance, you can take photos of your child's first painting and have them transformed into a gallery wrap to beautify your spaces.
It is easy to create a completely new space on your porch with these inexpensive canvases. Add some decorative lighting to finish the look.
Consideration Factors
While the theme, colour combination, and print style are essential for outdoor decor, you must also consider a few other factors.
Size
The first thing to consider in this regard is the size of your setting. This means that your canvas should not overpower the scene. For instance, a full-sized canvas may not look good on the front door, but it might make a lasting impact in the garage. Opt for long, widespread images of the beach or the city in the form of panoramic canvas prints when decorating larger walls. Most home decorators agree that 24 to 30-inch images are ideal for the deck.
Resolution
You need to select a high-quality image for canvas printing. The higher the resolution, the better the print on the canvas. It should be pretty easy to modify and resize images with great resolutions. We recommend utilizing photos with at least 300 dots per square inch for a crisp and clear appearance. It is essential to provide high-quality images to your canvas printing company if you are looking for the best results.
Frame
Frames add a contemporary aesthetic to any canvas. They are optional but bring a flair of creativity to your canvases. Instead of adding frames everywhere, consider getting one for your front door, garage, and deck.
Be careful to select a frame with colours that complement the photo printed on the canvas. You may also choose from various frame materials, including wood, metal, and even plastic. Choose one that complements the general decor of your area.
Are Canvas Prints Really Suitable for Outdoor Use?
Canvas prints can most surely be hung outside your homes but under shaded areas that will keep the art dry. If outdoor canvas prints are affected by rain or snow, they may get damaged.
Canvas prints that are meant to be displayed outdoors are covered with waterproof material that protects their colours from rain and moisture. Most canvas prints are stretched on wooden frames before displaying. Since wood tends to distort when affected by water or humidity, the canvas frames may shrink if they are hung outdoors for extended periods.
Metal prints are a good alternative to outdoor canvas prints stretched on wooden frames. This type of art is printed on aluminum, a very light yet durable metal. Rain or moisture does not affect the print quality on aluminum, and it always remains sharp and intense. Even the sun doesn't fade out the crisp printing on aluminum as it is UV protected.
Moreover, it is effortless to maintain. You can keep a canvas photo print clean by simply using a regular cleaning solution or splashing some water on it as you water the plants in your garden. Get yours made today and beautify your garden and other outdoor areas instantly!
Conclusion
Decorating the inside of your home is something that everyone does, but the outdoor decor is a game-changer. Since many of us spend a lot of time unwinding and relaxing in these areas of the house, it is essential to beautify them and establish a character.
While you may use a variety of planters, furniture, and lighting to make your exteriors attractive - canvas prints can add to the aesthetic. Follow the tips above to give your outdoor spaces the attention, texture, and warmth it needs to stand out.