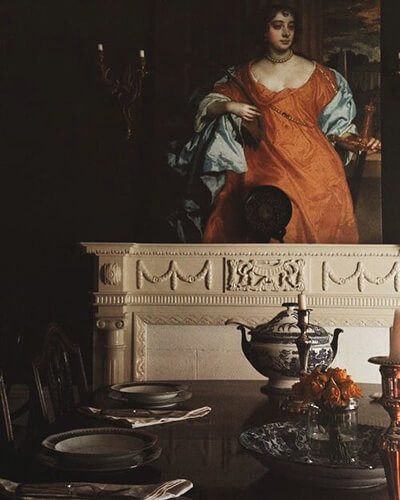 Kristina Gyllenberg
via
Kristina Gyllenberg Fine Interiors
"Hanging art & what you chose to hang on your walls, is in a way, art-work itself.
What you display, adds both character & personality to the interior. It is also about, what you select to display which can awake emotion. Also, the style can increase "the feeling" of your interior.
For example, decorating your space with only 18th-century pieces & hanging art with motives from the same epoch in time. So, how you display the art & what the motive you display on the art, is of importance. Art influences your space enormously, since it has the power to wake emotions. Then there are of course, out of my own point of view, "no-rules" for creativity, simply, my opinion would be that "what feels & looks right for you, is right".
1. Think about how you want to display. Make a drawing before hanging the art. One very good idea, is to lay your paintings/art out in the floor, such as you are planning to organize them when hanged on the wall. This way you can play with different options.
2. Have in mind what you display- since this will be something you might see daily. Have something you love, something that makes you happy or nostalgic. Or is a very decorative detail to your interior.
3. Have fun with the art. Either you chose a more symmetric style, for a more harmonic setting, or be playful, use different frames & motives, from tiny to huge paintings. 4. Be creative, there are always some basic rules of course, when hanging art. However, "if it feels right, it is right". "