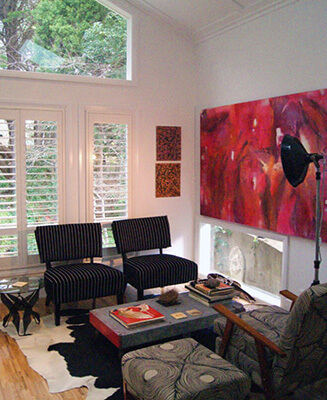 Sophie Seeger
via
Seeger by design
"Many people hang their artwork too high, which means the artwork feels isolated from the other elements in the room – there should be a relationship between your furniture, furnishings, lights and art – this is what creates a harmonious interior… especially an artwork over the back of a sofa. For me, hanging artwork at the right height, is THE most important thing. Whether you are hanging one piece of art, or a grouping, there is ONE rule to stick to:
Ensure your artwork or grouping of artworks, has its centre at your eye level – this is called the 57"/145cm rule.
Basically, with your tape measure, measure 145cm from the floor up – make a small dot with your pencil – and that's where the centre of your artwork (or grouping of artworks), should lie.
If you have numerous artworks in a room, hung separately (not in a group), don't try to level up the works at the top or the bottom of each frame, stick to the centre of each artwork being at your eye level, and your artworks will make your room come alive!"