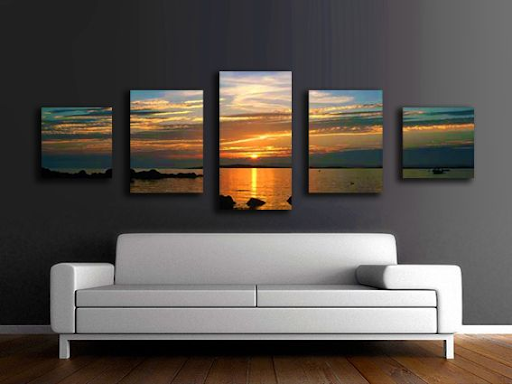 Image Source: Pinterest
Does the phrase "your home is a reflection of your style and taste" sound cliché? Yes, it may be overused, but it definitely stands true.
We understand that everyone is interesting and has something unique to offer. How about reflecting your amusing side without having to interact with anyone? You can do so by adding some color to your otherwise uninspiring and outdated walls.
But once you decide to embellish your plain walls and step into the market, a dozen options may confuse you. Paintings, wall textures, and photo frames - markets are overflowing with multiple decorative items. With so many choices, chances are you can make the wrong bid.
Well, don't worry! We are here to help you!
Displaying photos in frames may be an old concept, yet you cannot deny it still holds the charm. So incorporate the new trend into a traditional design format and go trendy with canvas prints.
Our customized and affordable canvas prints are the ideal way to glam your home.
What are Canvas Prints?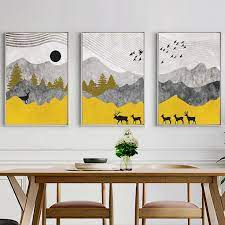 image source: Pinterest
As the name implies, canvas printing refers to printing images on canvas using an inkjet printer. The canvas is later stretched and made into a frame.
Afterward, you can adorn your walls with your chosen printed photographs on canvas and liven up your space.
You may argue that photos can easily be digitally printed, and acrylic or metal are the convenient media for prints. Still, we would suggest you read the below-listed points. It will give you an insight into why canvas prints are a brilliant well decor solution.
A Long-Lasting Option
Not all pictures go on walls. It is only photographs that are memorable and have some sentimental value attached that are displayed. Naturally, you want to preserve them for as long as you can.
You can do it with Canvas Prints!
Canvases are generally made of high-quality cotton. Getting your memories printed on it means you're locking the image for the years to come.
You can also choose a canvas to print inspiring quotes or get a panoramic view of your favorite scenery. Regardless of what you pick for canvas, the print will be life-long.
Museum-Styled Printing
Don't you find museum paintings beautiful and classy? Now you can decorate your home with almost the same quality prints.
Canvas prints provide an incredible finish and give life to your photo. These prints are far-acclaimed as their hues are sharp. Integrating these prints into your decor will amp your dwelling.
Here is a tip! A blend of warm and cool lighting will give an artistic effect.
Whether you hang canvas prints in the living room or put them on your bedroom shelves, your photos will add allegiance to your home.
They Come In All Shapes And Sizes
When we say canvas print pictures come in all shapes and sizes, we literally mean ALL.
You may like different-sized prints for different walls or want to incorporate various shaped pictures. Canvas printing is the answer as it is versatile.
Canvas prints are unique and offer a vast range of colors and flexibility of sizes. You can choose a photograph or a landscape and split the canvas print into several parts. Another idea is to choose a panoramic view.
Moreover, canvas prints are lightweight. You can easily transform your best-lived moment on a large wall-sized canvas. Imagine having your favorite memory as a backdrop wall. You will have fantastic wall art that only gives the illusion of weightiness.
On the other hand, you can also get your photographs printed on a smaller canvas. Keep them on your nightstand or place them on kitchen counters to liven up the area.
Less Stress On Eyes
Doesn't it put stress on your eyes when you admire a pretty painting or picture behind glass? Especially when these photographs are placed in areas with glaring light.
Yes, the glare may hurt your eyes!
The best part about canvas printing is that it saves your eyes from reflections. You do not have to put pressure on your eyes when looking around your decorated walls.
You can print your scribblings, quotes, or holy scriptures. And you can read them whenever you want without stressing your eyes. Isn't that great?
As Good as Real
Pictures cannot replace the actual experience. But a good printed picture can take you back to your memorable day.
Another benefit of canvas prints is that they are as good as the original. Colors are vibrant, and printing is with sharp finishing. While the canvas adds an oomph factor to your decor, it has another benefit. You can also reminisce about your holidays or achievements.
Reasonably Priced
We know that living costs have risen exponentially in the past few years. So, why wouldn't you want to purchase something exquisite yet affordable?
The canvas prints offer intricate color, and they appear classy. But the best part is canvas printing does not break your bank.
When you start renovating your home, you usually end up paying more than the calculated budget. Canvas prints are a reasonable option that adds an exquisite quotient to your space. You do not have to compromise and can make your walls stand out.
Brighten Up the Space
Let's look into another advantage of embellishing your walls with canvas prints.
Home is where we spend a lot of our time. How about making it brighter yet livelier?
Walls decorated with canvas prints give colors to the black and white space. They brighten up the area and make it more alluring.
Choose natural scenery, motivational quotes, or your children's photographs. You can quickly transform almost anything on canvas and spruce up your space.
Center of Attraction
Have you noticed that one decorative piece in five-star hotels or high-end cafes always catches your attention? It is because interior designers create a focal point.
Guess what; with canvas printing, you can do the same at home.
Get your favorite family picture or a catchy moment transformed on a vast canvas. Place it on the main wall of your living room, and it will become the center of attraction.
Wall decor with canvas printing can become a focal point of your home. Put it on the entrance and give your guests an aesthetic first impression.
Offers a 3D Look
The days are gone by when 2D images or photographs were all the rage. With the rise in technology, it is the age of 3D!
So, why not beautify your walls with 3D-like prints? Canvas printing has the edge over traditional prints. They do not just lie flat; they stand out because of their three-dimensional abilities.
Breathe a new life to your pictures and home by adding canvas printing to your wall decor.
Print on Demand
The good news is you can get almost anything printed on canvas.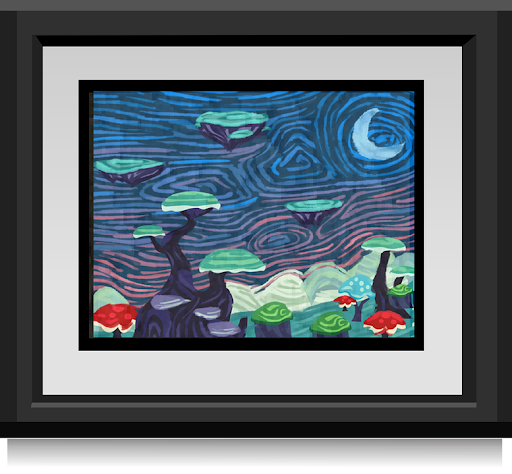 The above image is of a young child's drawing that parents have preserved by printing it on canvas. You can do the same or be creative and get different things printed on canvas.
For example, suppose you are a dentist. In that case, you can get "different tips for oral hygiene" or a 3D picture of before and after scaling in your waiting area. Beauticians can attract customers with canvas prints of their makeup and hairdos.
You can also get a map of your favorite city or the alignment of stars on a particular day.
The choices are endless!
The bottom line is canvas printing is versatile. It allows you to transform anything and everything on the canvas.
Eco-Friendly
You are trying to minimize the use of plastic and trying to become eco-friendly. Canvas printing is the solution you have been looking for.
Cotton or linen are the materials used for making canvas, which means you are not using any synthetic fibers.
Doesn't that make a great wall decor solution?
Low-Maintenance
Decorating a home may seem like a one-time job. However, we know you need to take care of it daily to maintain it. But who has the time and energy to do so?
Canvas printing is the way to go. It is easy to maintain. It does not require you to spray on the frame glass now and then. Just wipe the canvas regularly; it will be as good as new.
Plus, you can easily hang them or place them on shelves. You do not need some supporting items to keep them in place.
Here is another benefit of canvas: you do not have to refurbish the print every now and then. It will be as fresh as new for a long time.
The Bottom Line
Nate Berkus, the famous American interior designer, said, "your home should tell the story of who you are and be a collection of what you love." There is no reason that you tell a boring story through stark and unadorned walls.
Canvas prints can magically bring life to your home. So choose your memorable images and spruce up your walls and home.