Canvas prints are one of the best options for covering bland walls. They can combine with any interior decor and refresh your living space. You can also use them in less friendly environments such as kitchens, bathrooms, and even outdoors.
However, many misconceptions about canvas prints exist, and many people avoid them due to these myths. We have made a list of these myths and will debunk them one by one.
Myth #1: Canvas Prints Are Expensive
Traditionally canvases were used for paintings, which were pretty pricey in general. Some of those artworks fetched astronomical prices. And thus, people associate a similar price with canvas prints, which is far from the truth.
You can easily print images on the same canvases thanks to modern innovations. These prints are quick and relatively inexpensive. You can get a print for a fraction of the cost of the pricey artworks.
Simply upload your favourite picture and print it from a professional canvas printing service in the UK. If you order in bulk, you may benefit from special offers and even save on shipping costs.
Myth #2: You Need Professional Photographs
Many believe that canvas prints only look good if you use pictures taken by professionals. This may require you to purchase the images or hire a professional photographer to snap them. That's pretty costly and, frankly, impractical - especially in this digital-savvy world.
But thankfully, that is not the case!
These days you can easily take high-quality pictures from your digital camera, iPhone, or Android device. With a suitable camera app, you can further enhance their results. It is also possible to de-noise pictures and upscale them using apps.
So, you do not need photos captured by a professional to print on canvas. You can click your own pictures and have them transformed into beautiful art pieces.
Bonus Tip
If you have a low-quality camera and the results aren't excellent, you can upscale the images and print them on smaller-sized canvases. Opt for the larger canvases only if you have a high-resolution photo.
Myth #3: Canvas Prints Are Bulky
There is a misconception that canvases are bulky and difficult to carry around. And a glance at the print's structure does make this myth appear trustworthy.
But in reality, canvases are not bulky at all. They are just stretched on a wooden bar to make hanging easy. Though these bars may appear substantial, they have very little thickness and do not take a huge surface area.
The canvases themselves are also pretty lightweight. You can carry multiple canvases at the same time. Compared to stretched canvases, an unstretched or rolled canvas is easier to carry. They are also convenient to store, and you can fit many in a single box.
Myth #4: Canvases Take a Lot of Space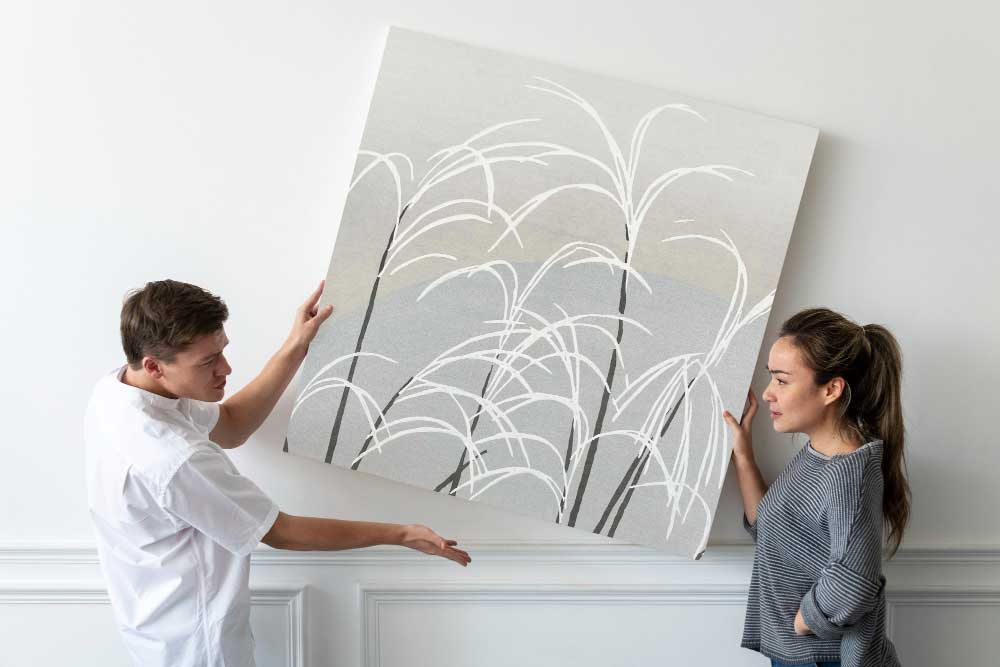 Incorrect!
Canvas prints take as much space as you want them to occupy. They are available in many sizes and styles, ranging from small 6" x 6"  to large canvases and wall display packages. Since there are plenty of sizes to choose from, the amount of space occupied by these canvas prints is dependent on you.
Of course, if you choose larger sizes, the prints on canvas will take more space. However, if you have a feature wall, the large-size canvas print can gel well into the rest of the decor. Split canvases, collages, and single canvases all look amazing without overpowering the surroundings.
Myth #5: Canvas Prints Can't be Framed
Since canvas prints are commonly kept without frames, some people believe they cannot be framed. These incorrect ideas come from various misconceptions, such as canvases are only suitable for paintings, they're too fragile to be framed, and stretching is the only option to hang them.
In reality, you can very easily frame canvas prints. Whether you're looking to use a classical wooden frame, go with a metal frame or opt for contemporary styles, there is no problem. In fact, they are more secure when framed.
Myth #6: You Can't Customise Canvas Prints
Another false notion that many people believe in is that canvas prints can't be customised. But did you know that several customisation options are available for prints on canvas?
Let's look at some of them:
Print a picture on one or multiple split canvases. You can also print multiple images on the same canvas in the form of a collage.

Add colour effects to the image, such as grey, red, sepia, etc.

Use different kinds of canvas wraps such as mirror and gallery wrap to cover the edges neatly.

Benefit from various size and design options. There are dozens of options available. You can also give your preferred dimensions to check if they can be produced.
Myth #7: Canvas Prints Are Not Durable
Many people believe that canvas prints are not durable, especially in comparison with regular photographic paper. However, canvas prints are much more reliable than their traditional counterpart and can even be kept outdoors without any problem.
Due to their durable nature, canvases have been used for artwork over the centuries. The manufacturing process ensures maximum longevity and the ability to withstand moisture and other harsh weather effects.
These prints are incredibly durable. So, suppose you are looking to place photos in an area with lots of dust, moisture, sunlight, or other common contaminants. In that case, canvas prints are a perfect choice.
Myth #8: Canvas Prints Are Difficult to Hang
When most people say this, they usually think of the rolled canvas prints. In their case, you need to put in some effort to ensure you can hang them on a wall. However, you do not need to do anything with stretched canvas prints as they are available and ready to hang.

Stretching a canvas is fun if you're interested in DIY projects. Our canvases are stretched unless you opt otherwise. Just drive a nail into the wall and hang the canvas print instantly.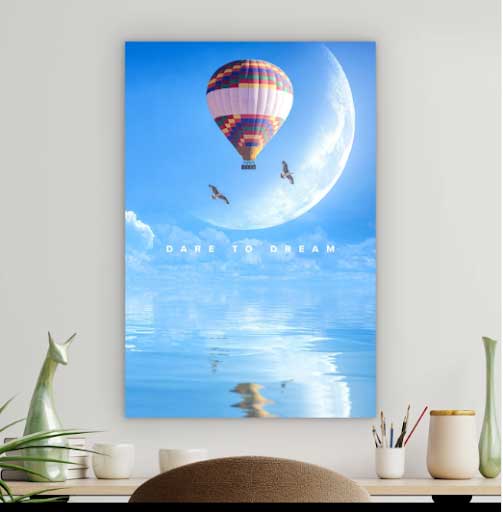 Source: shopmotiversity
The Bottom Line
There is a lot of misinformation prevailing about canvas prints. These myths often lead people to look for other, more expensive options for printing pictures.
Canvas prints are incredibly versatile in terms of sizes, colours, designs, and display options. So if you're looking for a reliable option to showcase your beloved photos, canvas prints are the ideal solution.